Our own opinion
We have used Bet365's services for a long time and our experience shows many things about the company. Firstly, let's start with the sports options. In Bet365 betting platform, there are many sports including football, basketball, tennis, baseball and others. During the years, we have tried many of them and the result is that Bet365 offers various possibilities. But the sport section is not the only on the site. The company also offers casino and poker games. They don't give way in comparison with sport section.
Our inspections show that Bet365 is available in many languages like English, German, Bulgarian, Chinese, etc. This is a proof that Bet365 operates in many markets. We cannot tell the exact number, but you can be sure they are many.
Except our experience with the British bookmaker, we constantly research the Internet for any news about the company. According to them, we can note that Bet365 has a gambling license from the Government of Gibraltar, but the bookmaker is working hard to acquire licenses from other countries too.
Other interesting news about Bet365, which our research shows, are connected with the ownership of the company. It is said that bet365's founder – Denise Coates – continues to manage the company. Also is known that Bet365 is the biggest employer in the city Stoke-on-Trent where the headquarters are based. If you watch the English Premier League, you should know that Bet365 is the owner and the main sponsor of Stoke City football club.
We will continue to follow the news about Bet365 and inform you with the latest information about the company. Further on in this review we share our experience with different parts of the services which every customer of Bet365 can find.
---
How do you register on Bet365?
Registering with Bet365 is simple and takes no more than a few minutes to enter your personal data and verify your account. In the steps below you will find detailed first-person information on how to create a new account with Bet365.
First of all, I access Bet365's website directly through this link;
At the top right corner, I have found and clicked on "Join Now" button;
A new window was loaded with the necessary blanks for me to fill in order to register;
Carefully I filled out all the necessary information. This is important because Bet365 will need to verify the account;
Make sure to check off that you are of legal age! If you wish you can check off the box to get regular email notifications from Bet365 (for bonuses and promotions);
Once I have filled everything out, at the bottom I found a green button "Join Now" – then I clicked on it and the registration process was finished!
18+ T&C apply | begambleaware.org | Play Responsibly.
---
How do we verify our account?
Please note that when you enter your personal data you also choose your verification method. Bet365 offered me to verify my account through an ID, international passport or a driver's license. Once I have created my account with Bet365, I received a welcome email. And once I made a deposit, played and, for argument's sake, won a certain amount, Bet365 required me to verify my account.
I had to send Bet365 a scanned copy of the document which i marked upon registration. The scanned copy must match the personal data provided through registration process.
Where do I click in order to verify my account? What do I choose?
To verify my account I chose from the menu on the right: Service -> Members -> My Account -> Verification or Identification.
Here are the two easiest steps I took for identification on Bet365:
Step – Sent a scanned copy of my ID card (one scanned copy of the back and one scanned copy of the front).
Step – Sent another scanned copy, this time it was my passport (driver's license is an option too).
These two verification requirements were implemented by Bet365 due to increased attempts for personal data fraud.
After a brief review, Bet365 sent me an email congratulating on a successful verification.
---
What should we do if we forget our password?
Password recovery is simple and takes only several steps. I have tried the process and here is the result. I had entered Bet365's website and at the right corner I found a button – "Lost Login?"
Once I had clicked on it, a new window loaded where I needed to fill out my username, email, the 4-digit code and, of course – my date of birth.
I entered all the information correctly and then Bet365 sent me an email with steps on how to recover my password. After that i had been redirected to a new window with a place to fill out the new password.
---
Design and structure of the website
Bet365's website is extremely stylized and well-structured. I found that the company has kept to the clean lines and bilateral menus. Bet365's website is powered by the latest technologies and you can easily find the subsection or match which you desire.
The website features the main colors of the brand wherein the color green prevails along with the yellow marking of the odds and betting options. The names of the teams are displayed with the color grey. At the time of the review, in the menu on the left i saw the types of sports and at the bottom of the page there were contact forms, information about the bookmakers and a list of frequently asked questions.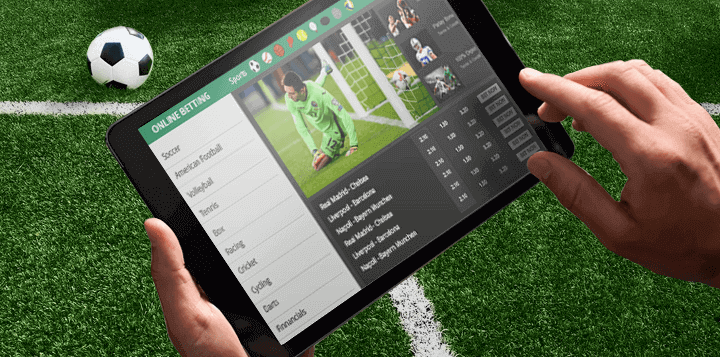 The amazing load speed and dynamic odd changeover definitely impressed me. Bet365 has a multimillion database in real time, and the time it takes for live meets to be updated, according to my view, is less than 2 seconds.
Structure and lay-out of Bet365's menus
Many of the players, especially those who are new to the site get pretty stressed out when they first open the website. At first it may seem tough to maneuver through but only after a few minutes you will learn everything there is to know about the website and be able to freely go through all the menus.
1. The main horizontal menu
The main menu is displayed at
the top of the page
(horizontally) where you can switch between different sections. When I last checked the site, these sections were available –
Sport, In-play, Casino and Poker
. All of them gave me different options when i had clicked on them.
2. A menu with all available sports
On the left side of the page I found a menu including all available sports on Bet365. Besides all the sports, the bookmaker frequently adds current tournaments such as Championship League, European tournaments, Copa America or the World cup. That menu gave me the chance to navigate through all sports and when I make a choice, i see that in the middle of the page all meets of the particular sports are loading., and in the middle of the page a menu will load where you will be able to see all meets of the particular sport, organized by dates, tournaments and countries.
3. The Central menu
If I am on the main page of the website, I see that in the central menu are all meets which are streaming live. Also, in the middle are emphasized those championships that are figured to be of greater interest to players.
From the central menu I can also make a quick selection of a sport that I wish, as well as place my bets on different markets, which will show in my electronic card.
4. Registration menu, Bet-Slip and bonus offers
On the right side of the page are the most important fields – for logging in and creating an account. At the top right corner I have noticed the buttons for a language change, change of the type of odd, and from "Services" I can read more on promotions, responsible betting, or I can go through the "My account" section.
The electronic card showing each selection and placed bet will appear in the fields on the right. And underneath are usually smaller windows showing the most current bonus offers.
Underneath that are the most bet on meets streaming live. Here I see what the score is as well as what minute the match is on without having to browse through the menus.
5. The menu at the bottom
This is the last part of the website – the so-called footer menu. In my last revision I noticed this menu features buttons for a quick access for contacting Bet365, information on deposits and withdrawals as well as frequently asked questions. From this section I also found information on mobile services offered by Bet365 for smartphones and tablets. At the very bottom I also found information on the licenses Bet365 is in possession of, as well as links to the latest promotions.
---
How popular is this bookmaker according to Google?
From the next column you can see what the interest towards this bookmaker has been with time according to Google Trends, compared to other bookmakers. The column shows a timeline from 2004 to today. Of course, under this column you can find tendencies according to Google for regional searches and related terms.
You can see for yourself the tempo with which Bet365 is growing compared to other competitors in this business. The company has doubled, even tripled its income and resources over the past 10 years. This is a clear example what Bet365 means to the business.
---
Sports Betting
This is the strongest feature of Bet365. Here I found a wide variety of sports and betting suggestions. All main tournaments and leagues are covered here as well as divisions and subgroups of almost any sport.
The sports bettings are put under the section that generates the biggest interest and is most visited by clients of the bookmaker. Bet365 are popular with their sports bets, combinations of very high odds and a wide variety of markets. Once I had entered their website, on the left side, I saw all the sports which are offered. At Bet365 I can bet on soccer, basketball, baseball, tennis, American football, gold, hockey, greyhounds, volleyball, virtual sports and many others. It is a huge advantage that there is a wide variety of betting combinations for all of the aforementioned sports (especially for soccer). I can also bet on half-time, number of cards, corners, throw-ins, goals and Handicap.
What kind of odds can we find?
Bet365 offers very high odds for meets in the "Sports" section. One of the reasons the company has taken over the world market is because on their platform they compare odds from all over the world and try to offer slightly higher ones so as to make even their most capricious clients happy. The odds are good not only for soccer matches but for other popular sports such as basketball, volleyball and tennis. The odds of live matches are also quite impressive.
What types of odds are available?
When I last reviewed the site, these types of odds were offered:
Fractional – Typically used in the United Kingdom, as well as players who live in Western Europe, Asia and Australia.
Decimal – A favorite type for most European players. This type of odd is used all over the world, but mostly in Eastern Europe.
American – The name speaks for itself. It is used in the United States of America, Canada, and a number of other countries.
From the upper right-hand corner I found a button – "Odds" which loads a drop-down menu to switch between the types of odds.

---
Different betting options and markets
Bets on Bet365 are not limited to the most popular ones – win, lose, or a tie. I saw more than 150 different betting suggestions for different markets. As I mentioned, aside from the most popular betting options, there is a variety of bets for sets, half-time and a number of others for each sport.
Regarding the favored soccer, at Bet365 I found markets for the meets as bets on: corners, throw-ins, number of cards, half-time, scoring of the first/last goal, Asian Handicap and many others. One of the most popular types of bet is that on a live game. The aforementioned markets are available for that as well and a favorite of many players are the bets on turn-of-events, goal-goal or those on over or under a certain number of goals in the game.
Next to every meet there is a button showing the number of available markets.
If we look at the other sports, we will see that Bet365 has taken it upon themselves to include a maximum number of markets, and the betting options for live events are once again available. At Bet365 I can use the option Cash-out to stop my bets and see all of my selections in the electronic card as well.
---
Bonuses in the sports section of Bet365
Open Account offer
---
As with every leading bookmaker, Bet365 also offers additional starting funds for the accounts of new clients. In the sports section of Bet365 I found a variety of bonuses for soccer as well as for tennis and basketball. Over a certain period of time they update their current offers and often release new and interesting promotions. Such promotions are available especially for tournaments such as the Championship league, World or European cups. Below I share the bonuses that are offered at this time. In-depth info you can find in our Bet365 promo code review.
---
Bonus for European soccer matches
| Bet type | Bonus |
| --- | --- |
| Trebles | 5% |
| 4-folds | 10% |
| 5-folds | 10% |
| 6-folds | 20% |
| 7-folds | 30% |
| 8-folds | 40% |
| 9-folds | 50% |
| 10-folds | 60% |
| 11-folds | 70% |
| 12-folds | 80% |
| 13-folds | 90% |
| 14-folds and upwards | 100% bonus |
What is our latest opinion
This bonus is for combinations or the so-called multiple bet. Bet365 gives you the chance to get up to 100% for the most popular tournaments in Europe, as well as the group phase and Championship league eliminations. This offer is for 3 or more selections for which there are 2 conditions – you had to have bet before the start of the meet and it must be end score market or for both teams to score.
If you stop the whole selection with the Cash-out option then your bet would not be counted. And if you have used the partial cash-out option, then your bonus will be calculated based on the rest of the bet amount.
---
Bonus for tennis matches
| Bet type | Bonus |
| --- | --- |
| Doubles | 5% |
| Trebles | 7.5% |
| 4-folds | 10% |
| 5-folds | 15% |
| 6-folds | 20% |
| 7-folds | 25% |
| 8-folds | 30% |
| 9-folds | 35% |
| 10-folds | 40% |
| 11-folds | 45% |
| 12-folds and upwards | 50% |
Additional information from our last overview
With this bonus you can receive up to a 50% additional fund for leading tennis tournaments. As with the previous bonus, this one is also for combinations or the so-called multiple bet. In order for your bet to qualify you must place it before the beginning of the match and your selections must be 2 or more. The markets on which you must bet are: "Final winner," "Winner of the first set" or "Set bets" (single or couple).
---
Bonus for the Euro Basket
| Bet type | Bonus |
| --- | --- |
| Doubles | 5% |
| Trebles | 7.5% |
| 4-folds | 10% |
| 5-folds | 15% |
| 6-folds | 20% |
| 7-folds | 25% |
| 8-folds | 30% |
| 9-folds | 35% |
| 10-folds | 40% |
| 11-folds | 45% |
| 12-folds and upwards | 50% |
Some overview from us
All leading tournaments and teams from the Old continent are included in this offer. Here you have the opportunity to receive a bonus of up to 50% (over the placed amount) for successfully guessed basketball games. The games have to be bet in a straight column and they have to be a minimum of 2. The types of bets that you have to make for these selections are:
"Handicap" with 2 possibilities
"Total in the Game" with 2 possibilities
The bonus will not be counted if you have used the full cash-out option. If you use a partial cash-out then the bonus will be calculated based on the amount with which you have been left in the game. As with the aforementioned offers, this one is also in the amount of €100,000.
---
Parlay bonus up to 50%
| Bet Type | Bonus |
| --- | --- |
| Doubles | 5% |
| Trebles | 7.5% |
| 4-folds | 10% |
| 5-folds | 15% |
| 6-folds | 20% |
| 7-folds | 25% |
| 8-folds | 30% |
| 9-folds | 35% |
| 10-folds | 40% |
| 11-folds | 45% |
| 12-folds and upwards | 50% |
What is our opinion about this offer? (overview)
Here you also receive 50% over the won amount, but this promotion is for sports from the United States and Canada. All of the regular seasons are included in this bonus as well as play-offs of tournaments for American football, basketball leagues, hockey and baseball. In the case as well, the bonus is given for wins of multiple bets, made on 2 or more matches and it required for the bet to be made before the start of the event.
The markets on which you must bet are a wide variety – from Handicap with 2 possibilities, to Total points/goals in a match, to half-time. Choosing the cash-out option for the entire bet does not qualify you for the bonus amount. If you resort to a partial cash-out then your bonus might be calculated based on the amount left in the game. Bet365 has removed the requirements for a minimum odd which allows you a more successful receiving of a % on your win.
---
IN-PLAY
Bet365 offers a service called "In-Play" bets which allow every player to bet on meets which are ongoing at the moment. In that section I have the opportunity to follow the meet directly and also to bet on differenet variations for live odds and markets. In my view, Bet365's advantage is that they use a technology which allows them to process and indicate changes of a particular match in only about a second. In this way they are able to update the changes incredibly past and in real time.
Bet365 broadcast thousands of live events including sports from almost all countries as well as championships and leagues of those sports. The variety which they offer exceeds 100 offers for each meets. Here the dynamic of the bets is far greater and Bet365 offer odds which are exceedingly higher than those of their competition.
Pinnacle have a similar option for in-play bets but their markets are limited only to 5-6 variants. Now you can register with them through the Pinnacle mirror link.
---
Live-Streaming
Not only can I place bets on everything that is broadcasted in real time but I can also follow a particular meet live directly via Bet365's live-stream. In a year the company broadcasts thousands of matches live. According to the news around the Internet, Bet365 is famous for live-streaming a soccer match in the United Kingdom for the first time in 2009. Here the match is broadcasted directly and at the top right of Bet365's website I see a little window which allows to follow each second of a chosen game. The picture's quality is quiet high and Bet365 has managed to make their live broadcasts start even if your Internet connection is not the highest.
I must mention that in order to take advantage of Bet365's live-streaming, I should have some amount in my account.
---
Bet Slip with your selections
Bet Slip was implemented at Bet365 and soon after it was copied by other leading bookmakers as well.
I am talking about a dynamic electronic extra which indicated your chosen matches.
On this Bet-Slip I can see the odds for every selection as well as its name. Also, the sum of the odds is automatically calculated on this widget. This way I can see how much I can win based on the bet I have made.
The Bet Slip is automatically displayed upon the selection of a particular match and the market for it.
---
Cash-Out option
I have to mention the incredible option to stop a bet which allows the players to pause an ongoing bet. In my experience, Bet365 has made it so the cash-out option is available for almost any sport including second and third division matches. With the cash-out option I can control the development of my bets and the amounts which are offered to me while my selections have not yet ended.
The cash-out option is updated instantly and it doesn't have big delays between changes in a particular match, which in-turn allows me to stop my bet at a higher odd. I use the cash-out option mostly for bets on soccer matches, tennis and the not any less popular basketball and volleyball.
---
Virtual sports
This is a relatively new, yet very popular section of Bet365. In it I found virtual meets not only for soccer but for sports such as basketball, tennis and many others. A favorite for many Englishmen are virtual horse and hound races. There are reasonable odds and the event loads a lot faster.
Although these are bets placed on virtual sports the winnings are real. The markets vary with each different sport and often there are more surprises with virtual meets from which I have won a much greater amounts.
---
Casino games at Bet365
The casino section of Bet365 offers a huge number of online games. I downloaded its casino client and from there i could play hundreds of casino games. The more favored games are card games, slots and video poker. Also there are different bonuses and for loyal clients there are always promotions which increase their funds and allow them to make free casino plays. Aside from all of the standard and some innovative games, Bet365's casino also offer the so-called Live Casino.
A live casino with real dealers
This subcategory features all the known games but the difference is that the game is live and there are real croupiers at the screen. When I last played at the live casino, the connection between me and the dealers was made with high-resolution cameras which reflect the picture instantly. This way I have the opportunity to live out the fantasy of betting from home without needing to be in an actual casino.
Another advantage of this feature is that when I am playing with real dealers I have a bigger chance of winning compared to games played on electronic machines.
---
Poker
Bet365 offers its clients the chance to play Poker through their poker room and one can take advantage of a special bonuses. Here I also downloaded their Poker client but I can play directly via their mobile poker application too. There are different freerolls and VIP programs. The advantage of the poker room is that I am using one of the most reliable poker platforms, and when I played with Bet365 for the first times, I was in poker rooms filled with players who are easy to beat. The level of the players is relatively low in comparison to Pokerstars, 888 or other poker clients. Please read carefully the T&Cs.
---
Deposits and Withdrawals
When we last checked the bookmaker's payment methods, we noticed that Bet365 has numerous deposit methods as well as withdrawal ones. The good news is that there are no taxes for any of the methods. Here I used the most popular methods such as bank cards, as well as electronic wallets, or the so-called eWallet. Bank transfers are also available but with them I had to wait 1-5 days, depending on whether they are business days or not.
A deposit at Bet365 is reflected almost instantly, whereas with the different withdrawal methods it can take anywhere from 2-3 days for cards, several hours for electronic wallets and up to a week for bank transfers depending whether or not the weekends overlap.
---
1. How do we make a deposit at Bet365?
In the steps we will show you how to deposit money at Bet365. For this you must choose your desired payment method and follow the following steps:
First, I login to my account or if create a new one here;
Then, I click on the "Deposit" button at the top right corner!;
*Variant 2: I can make a deposit using the menu on the right – "Services" -> "Deposit;"
A new window will pop up so I can choose my desired payment method;
Then simply enter the necessary information;
How do we make a withdrawal at Bet365?
You can withdraw money from your account using several different methods wherein your transactions are indicated anywhere from several hours to 5 days.
Here are the steps to withdrawing money I use when I have accumulated a certain amount:
I go to the top right of Bet365's website;
Then I make a choice from the menu "Services" -> Withdraw;
Then I see the deposit method which I initially chose;
I use the same method for withdrawal as for making a deposit;
The next step I do is to enter the amount to withdraw and click "Make Withdrawal";
I wait the time for the transaction to be done;
And that's it!
---
Mobile version and applications
According to my experience, as with every other leading bookmaker, the brand also has developed Bet365 mobile app for Android and iOS devices. Betting options, deposit and withdraw methods are almost identical with the mobile version of Bet365, as with the original one. The team at Bet365 has made sure to create a simple and easy to use version for smartphone or tablets users.
What is the difference between the mobile version of Bet365 and the applications?
Many clients use their device's Internet browser to open the mobile version of Bet365 and place a bet. For this it is necessary only to enter the address of the website and then will automatically be directed to the mobile version of the bookmaker. The main characteristic of the mobile version is that it is compatible with all kinds of devices and resolution; it simply adapts for every device.
Advantage:
An advantage of using the mobile version of Bet365 is that there is no need to update anything (in comparison to the applications). I simply enter the web address and I am instantly directed to the site even if I am using 3G or a slower connection. The mobile version does not depend on the platform I'm using (whether it is Android, iOS or Windows Phone) and it loads successfully on any operating systems.
Disadvantage:
A disadvantage is that I must always open my device's Internet browser and enter the web address.
What about the mobile applications?
Things are a little different with mobile applications. For every different platform a different application is required. As my last check shows, the mobile applications of Bet365 can be downloaded directly from their website or from the official websites of iTunes. Another characteristic that stand out is that each application is individually developed for a particular operating system and device.
Advantage:
An advantage is that there is no need for to enter my device's browser each time and the application has been created specifically for my device.
Disadvantage:
A disadvantage is that I have to update the mobile version all the time. This should be done to have all the functionality of the app.
---
Bet365 Affiliates
This is a program of Bet365 which allows anyone to become a partner of the brand and advertise them online. For this you must go to the affiliate website of Bet365 and apply to be a partner, like I did. In order to apply I had to fill out a form describing how I plan to advertise Bet365, what ideas I have and in the end, enter your website's address.
Bet365 tolerate mostly applicants who include sites having to do with sports. So, if you have a website for predictions, bookmaker reviews or sports new and statistics you will have a greater chance of being chosen as a partner of the brand.
When I had been approved (if you do get approved) Bet365 sent me an email verifying my birth date and asking me to login to the affiliate site. There I found a wide variety of advertising materials – banners, promo texts, links to different section of the site and of course my own affiliate code! This code tells cookies that I have forwarded a visitor and said visitor is counted in Bet365's system as being signed-up with me.
Partners of Bet365 have a right to 30% of a shared commission. This would mean that if a player loses £1000, then I will get a clean-cut commission of 30% from the amount of the loss. In this case I would get £300.
Bet365 Affiliates offer a detailed statistic of visitors, the number of registered players, the amount of deposited funds and, of course, the clean-cut commission I have generated in my account.
From where do I join the Affiliate program?
Everybody can join the affiliate program from this website: Bet365affiliates.com
---
Customer service
We have tried different methods to contact with the operator's support team. There are different options you can use – email, phone or directly through their live chat. The support team at Bet365 is available 24/7 to help you with problems you may have or professionally answer any question. Their customer support is a level above all other bookmakers and their response time via email takes no more than a few hours.
Bet365's customer care is without doubt the best and most professional that we have come across. Only experts are in-charge for the United Kingdom and they will answer your inquiries almost instantly via chat or phone. If you are using email then you might have to wait 2-3 hours for a response. Below we have added more information on how to contact Bet365. Everything is based on our own experience.
---
Contacts
Phone
Fax
Help Center
Live chat
Email
Where are the headquarters of the company?
Bet365 has offices in different countries around the world, but the main building is located in Stoke-on-Trent. Tha address is Media Way, Stoke-on-Trent 5SZ, the UK. Here you can see a map with the exact location, provided by Google Maps.
---
Rating and Summary
18+ T&C apply | begambleaware.org | Play Responsibly.
 
Bet365 is without doubt one of the leaders in the world of internet betting. The bookmaker offers high odds, appealing bonuses and a wide variety of sports meets which stand out with their betting markets. Bet365 also has a casino section, poker room where you can make a deposit in seconds, using one of the many payment methods.
Related Articles