Vbet App for Android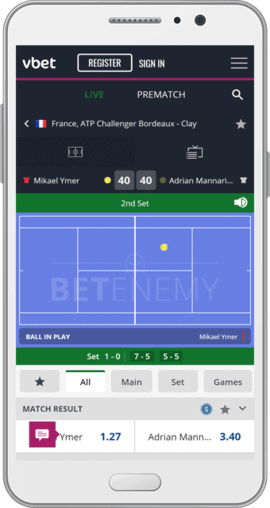 When you go over to the Vbet website, you will notice that there is a "Download Android Application" button at the lower right corner. If you click that button, you'll be able to download the .apk file and start playing.
The colour and theme of the app are similar to those of the desktop version. It displays dark colours and simple yet attractive designs. It also uses some light colours to emphasize the important sections of the website.
In terms of the functionality, it has impressive navigational features and it is quick to respond. With this, live betting with a mobile device is easy and convenient for all players.
How to download and install the .apk file?
If this is your first time to download this app, you might experience some difficulties getting it to work. So we've included some steps you have to take in order to install the app on your Android phone. Follow the steps below:
Step: Go to your Android's Settings and click on Security. Enable the Unknown Sources option and click OK.

Step: Go to the Vbet website and click on the "Download Android Application" button.
Step: Download the .apk file and look for it on your Downloads folder. Click on it and you should begin installing the app.
Step: Wait for the installation to complete.
Step: Click on your new app and start playing.
---
App for iOS
What's great about Vbet's mobile app is that it can be downloaded on both Android and iOS devices. With this, anyone can use it. What's more, its Android and iOS versions come with the same layouts, designs, and features. So, if you are an iOS user, you will not feel harmed for one or another app feature, compared to the Android users as the same rule applies to them too.
How to download and install the app?
Aside from the Android app, Vbet also offers a great app for iOS users who have iPhones or iPads. You'll be able to find this app in the iTunes Store. All you have to do is search for "Sportsbook by Vbet" in the search bar and you'll be able to see it. Here are the steps to install the app.
Step: Go to the iTunes Store and look for "Sportsbook by Vbet".
Step: Download the app and wait for it to install.
Step: Start playing using the app.
---
Vbet Mobile Sports Betting
Vbet is really popular among a lot of punters because of its wide variety of sports options reaching over 40 betting options to choose from. Its football matches are also very popular with Asian handicaps available. Odds are great with Vbet, especially in football with a very competitive average payout rate of 94.1%. Other than mainstream sports, Vbet also ventures into E-Sports with available betting options for Dota 2, LOL, CS: GO, and more gaming events.
You'll also be happy to know that Vbet's betting platform was constructed by big-time betting software provider Betconstruct. Betconstruct happens to be one of the leading sports betting software providers in the industry. If you're familiar with Betconstruct, then you'll know how good Vbet's sports betting platform will be.
The live betting section is excellent as it is highly functional with a lot of features like Quick Bet and Super Bet. However, the best thing is that you have the option to choose a Multiview mode. With this mode, you can simultaneously place bets from six different events. Asian Handicaps are available as well. Plus, there are many betting selections. Players may also enjoy a high-quality live graphic simulation feature.
---
Mobile Apps Features
The mobile app and mobile website pretty much offer the same thing that the desktop website does, they're just more optimized to fit the size of the mobile screen. Here are a few noteworthy features of the app:
Multiview Mode
The Multiview Mode is one of the most popular features of this app. It offers players a way to view 6 events at the same time without having to hide one or another.
Live Graphic Simulation
While Vbet does not have a live streaming feature, it does have a live graphics simulation for in-play betting. This allows you to see actions from live events so that you can enjoy a more exciting live betting experience.
Guest User Mode
After you download the mobile app, you can choose to enter as a guest so that you can scout out the features before you sign up and start betting with real money. This feature gives you firsthand experience on the platform without having to actually put money in yet.
Responsive Platform
One of the best things about the Vbet mobile app would be its high responsive functions. The mobile app makes use of a lot of slider functions. This, in general, makes the app's response time very fast. You also don't need high bandwidth to access the mobile app.
---
Mobile Site Version

Of course, those who don't like downloading apps into their phones may have the option of just accessing the mobile version of the website via the mobile browser.
With a mobile site version, all you have to do is boot up your internet browser on your phone (Chrome is usually the most recommended), and type in the Vbet website. You'll automatically be directed to the mobile version.
The mobile version is pretty much just like the app with regard to features, but the difference would be the speed. Compared to the app, the mobile site version is a bit slower and requires more internet bandwidth to work.
Also, there are web pages that need redirecting and loading which the app rarely needs. However, the mobile site version is equally easy to use and also fully optimized to fit the size of the phone screen.
It also has the same betting options like the apps and the desktop site version of Vbet.
---
Apps for Vbet Casino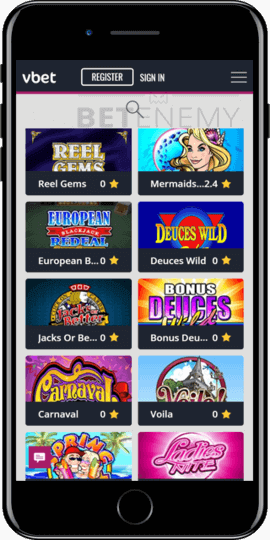 Aside from the sports betting app, you'll also find that the Vbet casino has its own app for iOS devices and Android devices.
For Android devices, you can go to the Offers page and click Mobile Apps. You'll see the download link to the Sportsbook app and the Casino App as well.
In order to find the iOS Vbet casino app, search for "Casino by Vbet" in the iTunes Store and you'll be able to download and install the app. In order for Android users to use the Vbet casino, you can just access the mobile version of the website.
In the mobile casino of Vbet you will have the same options like in the full website. You can play different slot games, video poker and table games.
There are games available with demo versions in which you can practice them. Also, there are live casino games with real dealers, which will bring to you a high-level casino experience through a smartphone or tablet.
---
Vbet Poker Apps

Unfortunately, the Vbet Poker app is only available for iOS devices. If you look at the Mobile Apps page, you won't find a download link for an Android Vbet Poker app.
You'll find there a button that links to the Vbet iOS Poker app in the iTunes Store. Alternatively, you can search for "Poker by Vbet" on the iTunes Store and install the app that comes out.
There is no an Android app for Vbet Poker, but this doesn't mean that you can't show your skills. Instead of the app, you can use the mobile version of Vbet to play poker. You can take part in different tournaments and cash games in which you can show your abilities and win big prizes.
In the Mobile Poker section of Vbet you will find a special "How to Play" section which has many useful information for poker players. If you are new in the poker world, you will find a lot of information there. Also, there is a page dedicated to promotions from Vbet Poker, so everything you need is at your fingertips.
---
Differences Between the Mobile App and Mobile Site Version
While the mobile app and the mobile site version are quite similar, they do have their own differences. With that, they do have their own pros and cons that you may want to take note of.
Mobile App

Advantages
Very interactive
Very clean and minimalist
Great Design
Disadvantages
Needs download and installation
Android app requires changing of security settings
Mobile Site Version

Advantages
No need for download
Works with any phone that can access the internet
Clean looking
Disadvantages
Not as fast as the mobile app
Still redirects some web pages
---
Is there a mobile bonus?
While Vbet doesn't give a bonus exclusively for mobile users, it does give great bonuses in general. There are a few promotions but nothing much to shout about.
Vbet doesn't have that many promotions as compared to other platforms, and its bonuses and promotions are not as attractive as those of other online casinos. This is one aspect that Vbet is a little weak at, but the apps and site version are very well-designed.
---
System Requirements and Compatibility
The Android app generally works for all Android operating systems since it can be downloaded as an .apk file. It is compatible with Android OS 4.0.X, 4.X, 4.4.X, 5.X, 6.0.X, 7.0.X, 8.0.X and latest versions. As for the iOS devices, they would need an iOS version of 8.0 or higher to work.
Here are some examples of compatible devices:

Samsung Galaxy S8
Samsung Galaxy 9
Nexus 6
Honor 8
Moto G5
Huawei Mate 10
iPhone 6
iPhone 7
iPhone 8
iPhone X
---
Deposits and Withdrawals
Vbet offers several payment methods for players to choose according to their preference. Check out the deposit and withdrawal methods available at Vbet below:
| Payment Method | Deposits (Min-Max) | Time for Transaction | Withdrawals (Min-Max) | Time for Transaction |
| --- | --- | --- | --- | --- |
| Visa/MasterCard | £5 – not stated | Immediately | no limit – max not stated | 1 to 3 days |
| Skrill | £5 – not stated | Immediately | no limit – max not stated | up to 24 hours |
| Neteller | £5 – not stated | Immediately | no limit – max not stated | up to 24 hours |
| EcoPayz | £5 – not stated | Immediately | no limit – max not stated | up to 24 hours |
---
Company Information
Vbet is an Armenian bookmaker which made its debut in 2003. With its long-year of experience, Vbet was able to rise to the top among many bigger casino websites from the UK and other parts of Europe. It is one of the big names that started around the time when gambling was moved to the internet. Because of this, it was able to grab a large slice of the Armenian market.
Vbet is the gambling arm of its mother company Radon B.V. It has a license under Curacao with a Master Gaming License and a sublicense CIL. With this, Vbet has been targeting various customers all over Europe. Specializing in sports betting, it offers a ton of sports betting options to choose from. It also offers a mobile platform that allows players to place their bets even when they are not in front of their computers. There are mobile applications for both iOS and Android platforms and also a dedicated mobile website version with a responsive design. Find out more in the sections below.
---
FAQs
If you have questions in mind, use the following FAQs to get them answered.
Q&A
1. How do I verify my account?
All you have to do is send a scanned copy of a valid government ID and a scanned copy of a proof of address. For an ID, it is recommended that you use your passport or your driver's license. For the proof of address, a utility bill or phone bill would be best. If you don't have those, you can show a 3-month old bank statement or credit card statement as long as it is under your name.
2. Can I find the Android app in Google Play Store?
The Android app can only be found in the website itself and not in Google Play Store.
3. Why do I need to change the settings on my Android to download the .apk file?
It is because Android devices, in general, are programmed to reject gambling apps which is why you need to turn on the Unknown Sources option in the Security settings. This allows the Android to let any type of app to be installed.
4. What is the minimum bet that I can place?
The minimum bet in Vbet mobile is the same as in the desktop version. It is £0.10p or currency equivalent.
5. Is there a welcome bonus for new mobile players?
Unfortunately, Vbet doesn't feature any welcome bonus for mobile players. But you can activate the available bonuses which are presented for both mobile and desktop users.
6. What is Vbet Sports News?
Vbet Sports News is a news notification feature that updates sports news every 30 minutes. This allows you to keep updated on what is happening in the sports world. This also allows you to make more educated bets based on actual real-time news.
7. Does Vbet have a cash-out option?
Yes, Vbet has a very easy-to-use cash-out option, enabling punters to make changes to their bets mid-game so that they can secure their profits even before the final outcome of the event. Also, you can use the feature on your mobile device.

---
Rating and Conclusion
Vbet definitely has a lot to offer to the table with its very easy-to-use website, wide range of games, high UX mobile app and mobile website, cash-out option, and other amazing features. If you're just a recreational punter, you won't really have any problem with it because it does give you what you want in a betting platform.
While Vbet has become quite big and made quite a name for itself, it still hasn't grasped its real potential. Vbet still has a long way to go in terms of marketing and overall promotions. Its bonuses are nowhere near as good as other bigger players. Still, Vbet's mobile app deserves a rating of 9 out of 10.
Related Articles