Is There An Android .apk Application?
Unfortunately, there doesn't seem to be a dedicated app for the Sportsbetting.ag platform. If you check the website, you will see a download link for a .apk file for the Poker section, but not for the sports betting section. So if you're a punter and would want to play on the sports betting section of this platform, just access the mobile website instead.
If you want to install the Poker .apk file, go to your phone's Security Settings and enable Unknown Sources. After that, download the .apk file and install it on your phone.
The app is mobile-friendly. It has the same design as the desktop version, but its layout is optimized for mobile use. Because of this, jumping from one page to another isn't a problem when using the mobile app. What's more, it loads pretty fast and doesn't always lag.
---
What About Mobile App for iOS?
Same with the Android, there doesn't seem to be any dedicated app for sports betting on iOS devices.
The Sportsbetting iOS mobile version is more or less identical with the Android website. They take the same design and layout, and they have the same level of quality in terms of the user experience.
---
Review of Mobile Website Version
With the absence of some of the features of the desktop version, you'll have to rely on the mobile website version. Now, even if there is no app, the mobile website version is actually good enough for your betting needs. While it cannot be said that the mobile website is the most beautiful website that you can find, it's by far one of the most functional.
If you treasure ease of use over aesthetics, then you'll have no problem with the mobile site version. The colour scheme is blue and white, making the mobile website easy on the eyes. It also makes use of a lot of slider functions, making the navigation very easy and interactive. You'll also notice that the mobile version hardly redirects from web pages. This decreases the loading time and makes your experience much smoother.
When you navigate the mobile website, you'll see that there is a list of sports for you to choose from. It'll show you the main sports the platform has to offer and the game props. You'll also see the Futures options and other sports. Basically, it's all there for you to click on.
---
Mobile Sports Betting
One of the cool things about the sports betting portion of this platform is the options you can choose. They're known for covering a lot of big leagues in football, baseball, and basketball. Other than the big leagues, they also offer collegiate sporting events and minor leagues in other sports like boxing, MMA, and cricket. They even have non-sports betting lines which include politics, entertainment, and even celebrity gossip.
Other than that, there's also a cool live sports betting option that allows you to bet on sports while they're happening. The live betting also includes the big leagues—especially the big leagues for football and basketball. If you're a serious punter, this is a good platform where you can make a lot of profits through mobile betting.
---
Mobile Version Features
The good news is that most if not all of the features on the main website are the same as the mobile site. Here are a few notable features that you'll find on the mobile platform:
MLB Dime
The MLB Dime is an interesting feature that allows you to get the best value for baseball betting. Since baseball is one of the primary sports that Sportsbetting.ag offers, it's no surprise that they'd make sure that you have the best dime lines of up to -194.
Reduced NHL Juice
Reduced NHL juice lets you pay only 10 cent lines instead of 20 cent lines, which is the standard for NHL bets. This allows you to get more value for your money and still good chances of an enjoyable bet.
In Game Live Betting
Of course, there's also the live betting feature where you can make in-play bets on live games. This is the more exciting aspect of sports betting wherein you can actively participate in the action and even make some profits while doing so.
Racebook
Another pretty interesting feature that you can find here would be the Racebook. The Racebook allows you to bet on horse races with their own separate bonuses such as the 7% back track rebate. Additionally, you'll get a 4% rebate if you make a telephone wager, so this is a plus for those using their mobile phones.
POP Points System
Sportsbetting.ag also has a POP Points System which is used in the Poker platform. This system allows you to earn points while playing, and these points can be converted into currency later on.
---
Mobile Casino
The mobile casino has over 100 games that you can choose from, and they all work in your mobile browser. You'll probably be a bit familiar with its format if you know about BetSoft. The mobile casino is actually running on the BetSoft software which is why the experience as a whole may seem quite familiar. Some of the games that you can play here are slots, blackjack, baccarat, roulette, craps, and skill games.
---
Mobile Poker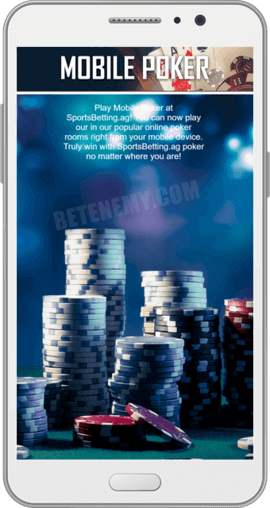 If you're more of a poker enthusiast, you can scoot over to the poker platform instead. It's important to take note that this poker platform is more targeted towards micro stake players instead of high rollers because of the limits. Nevertheless, the poker platform is a member of the Chico Network which hosts games for over 1,000 players. So if you're up for a challenge, you can expect to put your skills up against other skilled poker players.
As we mentioned earlier, there is an Android app for the Poker platform of Sportsbetting. All you need to do is to open the mobile website version of the bookmaker and browse to the Poker page. There, you will find a download link for the .apk file.
---
Mobile Bonus Offer – $50 Free Play
For those who often use their mobile phones, there is a mobile exclusive bonus for first-timers. If you try out betting for the first time using the mobile platform, you get a $50 free play.
Terms and Conditions:
This offer is available once per person.
This offer is not valid when used with other offers.
This offer is only valid on your first sports bet placed using a mobile device.
If your bet loses, you are eligible for a refund with up to $50 worth of Free Play. To get the refund, send your account number as well as the ticket number of your single bet via email to freeplay@SportsBetting.ag. The subject of your message must be "$50 Mobile Free Play". Do this within 24 hours after the completion of your game. After receiving your email, Sportsbetting will give you your refund as well as your $50 worth of Free Play within 48 hours.
If your first mobile bet deposit of less than $50 loses, you can get a refund of the full bet amount.
If your first mobile bet deposit of more than $50 loses, you can get a refund of $50.
A six-time rollover is required.
The free plays have an expiry period of 30 days.
Mobile bets placed on Live Betting, Futures, or Horses are not eligible for this offer.
---
System Requirements and Compatibility
The biggest advantage of having a mobile website and not a dedicated app would be that there won't be any problems with regard to system compatibility. Since you just have to input the URL in your mobile browser, you won't have to worry about any of these issues. However, do take note that the mobile website heavily runs on Flash and Java, so you may have to make sure that your phone has both of these fully updated.
The app works on Android devices with OS versions 6 or higher. For iOS devices, the mobile website works on iPad 3 or higher versions and on iPhone 5 or higher versions.
Here are some examples of compatible devices:

Samsung Galaxy S6
Samsung Galaxy S6 Edge
Galaxy S6 Duos
Xperia Z5
Xperia C5 Ultra
LG G3
LG G4
Moto X Style
iPhone 5
iPhone 6
---
Payment Methods
When it comes to payment methods, there are a lot of options that you can choose from. You even have the chance to deposit and withdraw using cryptocurrency, which is a pretty rare feature that only a few betting platforms provide. In any case, here's the list of the deposit methods:
Deposits:
| Payment Method | Minimum Deposit | Maximum Deposit | Time for Transaction |
| --- | --- | --- | --- |
| Visa | $25 | $5000 | Instant |
| Mastercard | $25 | $5000 | Instant |
| Skrill | $10 | No limit | Instant |
| Bank Wire Transfer | $1000 | No limit | 1-3 days |
| Money Orders | $300 | $9000 | 1-3 days |
| American Express (AMEX) | $25 | $2500 | Instant |
| Person to Person | $100 | $600 | 1-3 days |
| Cashier's Check | $1500 | $15000 | 1-3 days |
| Bitcoin | $20 | $25000 | 24 hours |
| Ethereum | $20 | $25000 | 48 hours |
| Litecoin | $20 | $25000 | 48 hours |
Withdrawals:
| Payment Method | Minimum Withdrawal | Maximum Withdrawal | Time for Transaction |
| --- | --- | --- | --- |
| Skrill | $25 | $9900 | 36 hours |
| Bank Wire Transfer | $500 | $24900 | 7-15 days |
| Person to Person | $50 | $400 | 5 days |
| Check Express | $500 | $2500 | 7 days |
| Bitcoin | $20 | $10000 | 24 hours |
| Ethereum | $20 | $10000 | 24 hours |
| Litecoin | $20 | $10000 | 24 hours |
---
Company Information
If you're familiar with platform BetOnline, then you'll feel right at home with Sportsbetting.ag. Sportsbetting.ag is the sister company of BetOnline and is under the main flagship of BetOnline when the bigger company bought it last 2012.
However, it's interesting to note that Sportsbetting.ag was already in business and moving at a steady pace since 1991, so they're quite well known in the industry. Known for their sports betting platform, they focus a lot on the online betting experience and providing a wide range of sports betting options to players.
With the introduction of apps, they have also created a mobile platform to supplement their online platform. The Sportsbetting.ag mobile platform can be used in all devices and offers a variety of features punters will enjoy. There is no matter whether you use Android or iOS device – the mobile version will be running. The great thing about the brand is that they're quite conservative, so you can trust your money to be safe with them.
---
FAQs
If you need assistance, just check out the FAQs below to get useful information.
Q&A
1. Will Sportsbetting.ag request me to submit documents for verification?
Yes. This is to ensure your age and identification. You may be asked to submit a scanned copy of your ID and a proof of address before you can withdraw your money. The platform accepts IDs such as your passport or your driver's license. For the proof of address, you may submit a bank statement, a utility bill, or a phone bill. Take note that the proof of address has to be under your name, matching the name in your ID. It also has to be at least 3 months old.
2. Is there a dedicated casino app for the Sportsbetting.ag mobile casino platform?
Just like the sports betting platform, there is no dedicated app. You will have to use the website in order to play in the casino.
3. Are there any mobile exclusive bonuses other than the $50 free play?
Currently, there doesn't seem to be any other mobile exclusive bonuses other than that. You may enjoy the other bonuses that the platform offers for both the website version and the mobile version though.
4. Are there any system requirements for the Android poker app?
The installation of the .apk file for the Android poker app requires that you have an OS 6 or higher.
5. How do I deposit Bitcoin using my mobile phone?
If you have a mobile Bitcoin wallet, get your wallet's address and provide it to the platform. It should be able to deposit your money in a few hours.
6. How do I withdraw Bitcoin using my mobile phone?
Get the wallet address of Sportsbetting.ag and then click on Receive on your Bitcoin wallet. Provide the wallet address to your Bitcoin wallet and wait for your money to come in.
7. Is there a live chat in the mobile version of the website?
Unfortunately, the live chat can't be seen in the mobile version of the website. To access the live chat, you can go to your desktop version and go to the Contact Us page.

---
Conclusion and Rating
As a whole, Sportsbetting.ag is actually a really good mobile betting platform. Known for its great value-for-money offers, wide spectrum of games to choose from, great UX for the app, generous bonuses, and really cool features, this platform is definitely one that a lot of punters and casino rollers will enjoy.
Aside from punters and casino rollers, poker enthusiasts will have a ball as well with the live video poker room. Since the poker platform is associated with Chico network, poker players can meet a lot of new players who share the same enthusiasm in the game.
Functionality-wise, the mobile version makes up for what the app lacks, although the aesthetic appeal of the mobile website is a bit lacking. It is clean and very easy to use, but it doesn't have that classy and elegant appeal that a lot of newer and more modern sports betting mobile apps do these days.
Nevertheless, Sportsbetting.ag is still a good platform if you're just there for recreational purposes and not really particular about the looks of a dedicated app. This is why it deserves a score of 7 over 10.
Related Articles