Is There An Android .apk Application?
For most sports betting platforms, we're probably used to having an Android .apk file that can be downloaded from the website. After downloading the .apk file, you can access the mobile app by booting the .apk file and installing the app.
Unfortunately, though, there is no Android app that can be found for Sportbet. Other than that, you also won't find any Sportbet app in the Play Store. If you're using an Android phone, then the only way to access the app would be to input the URL in your Android's mobile browser and log in from there.
---
What About Mobile App for iOS?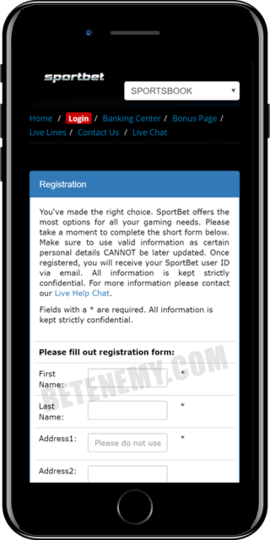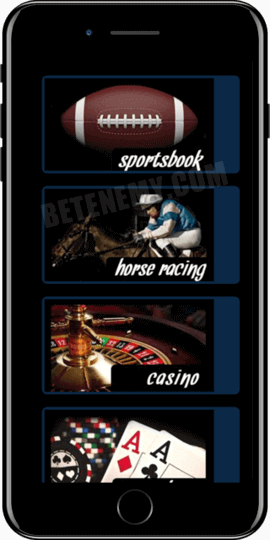 Just like the Android app, there is also no mobile app for iOS devices. Even if you look for Sportbet in the iTunes store, you won't find it. Take note, though, that Sportbet shouldn't be confused with Australian sports betting app Sportsbet. Many people who have first heard of Sportbet would try to look for an app on the iTunes store and find Sportsbet instead, confusing the two to be the same.
So to make things clear, there is also no dedicated Sportbet mobile app for iOS devices. If you want to access the platform with your iPhone, iPad, or iPod Touch, you can access the mobile website version.
---
Review of Mobile Website Version
In the absence of an app, what they have to make up for it is their mobile website version. When you input the Sportbet link into your mobile browser, you'll automatically be brought to the mobile version of the website. Although the mobile website is not much to look at, it's fully functional and very easy to navigate. It's actually the perfect mobile website for people who are always on the go and don't have the time to explore the site. Everything is right there in front of you.
When you log in, you can easily find all the sports and events under the Bet the Board tab. From there, you can see the details of each league as well as the odds. This will allow you to easily know which event and which team would be good for you to bet on. The information on the website is organized in such a way that you won't have a hard time looking for anything at all.
So in a nutshell, the mobile website may not be that appealing aesthetically, but it's not ugly. It's very neat, tidy, and organized which is exactly what a mobile player needs when he or she is planning to bet on events while outdoors.
---
Mobile Sports Betting
The sports betting section of Sportbet has a pretty wide range of sports options to choose from. Primarily, they focus a lot on football and basketball, but they also offer great events on golf games, baseball, hockey, tennis, and even MMA matches. What makes Sportbet's sports betting platform really special would be the odds. The odds are really competitive and very reliable with regard to the odds. They even offer a Super Saver Promotion for parlay bettors wherein those who avail of the promotion will get better odds. This allows for a higher chance of winning bets when you parlay bet on any of the events offered.
---
Mobile Version Features
Since there is only a mobile version of the website available to punters, pretty much all the features of the desktop website can be found in the mobile website version. Some of the more noteworthy features of the platform include:
Live Stream Feature
There is a great live stream feature that allows you to watch the game while you place your bets. This gives you a chance to be a part of the action as a whole and give you a great overall betting experience.
Live Betting Ultra
Unlike the standard live betting feature, Live Betting Ultra gives you the chance to have three bet types. You'll also have more varieties with your betting options so that you can enjoy the platform even more.
Racebook
This is one feature that a lot of other sports betting platforms don't have — a racebook. The racebook allows you to bet on horse races and greyhound races. Since horse racing is a very popular sport in most European countries (especially the UK), Sportbet also got into the action to target race betting enthusiasts as well as regular sports bettors.
Live In-play
Lastly, there is the live in-play feature that allows you to place your bets right away while the game is happening. However, not all events have the live in-play feature. When you go to the live betting section, there will be a
"Live In-play"
indicator that will show whether you can wager in the middle of the game.
---
Mobile Casino
The mobile casino is also something that you'd definitely want to check out. Just like the sportsbook, the mobile casino is the same as the desktop version of the casino. If you've played in 5Dimes before, you'll probably be very familiar with the whole layout and setup. Just to give you an idea, there are five sections in the casino. These are the:

Grand Casino
Bonus Casino
Jackpot Casino
Match Play Casino
Gold Casino
They're all pretty much the same but with different features and different types of games. As for the games that are offered in the casino, Sportbet offers a wide variety. These games are slots, table games, Bingo, Lottery, Live games, Poker, and Keno.
It's really important to take note, though, that not all games offered in the desktop version are offered in the mobile version. However, there are 5 different sections, so there will be a lot of games for you to choose from. You definitely won't run out of games to play with the Sportbet casino.
---
Mobile Poker
Mobile poker is a part of the Sportbet casino, but it's also a big game platform on its own. If you're the type of poker player who likes to take the game wherever you go, then you'll love the mobile poker platform because you can play it on your phone anytime you want.
Currently, the mobile poker platform may not be as nice as other more advanced and bolder mobile poker platforms, but the Sportbet team is very open to suggestions from customers, and they're constantly making improvements on the platform.
---
Mobile Bonus
So far, there doesn't seem to be any bonuses that are mobile exclusive. However, there is a large selection of general bonuses that are available for both the desktop version and the mobile version. There is a very attractive welcome bonus where you can get 50% worth of bonus of up to $520 on your initial deposit. Aside from these, there are so many other promotions you can avail of.
---
System Requirements and Compatibility
As long as you have a smartphone, you can access the mobile website. Some of the mobile devices that are compatible with the Sportbet mobile website version include:

Samsung Note series
Samsung Galaxy series
Samsung S series
iPhone models
iPad model
iPhone Touch models
Huawei smartphone models
HTC smartphone models
Sony smartphone models
Nokia smartphone models
These are only some examples of compatible devices. Note that all mobile devices are compatible with Sportbet's mobile site version as long as there is an internet connection.
---
Payment Options
Sportbet has a few payment methods available for players to choose from. Although they don't have as many options as others, they pretty much have a decent list of the most reliable deposit and withdrawal methods.
Deposits details:
| Payment Method | Minimum Deposit | Maximum Deposit | Time for Transaction |
| --- | --- | --- | --- |
| Credit/Debit Card | $50 | $500 | 24-48 hours |
| Money Order (with FedEx) | $100 | – | 12 hours |
| Person to Person Red Option | $250 | $690 | up to 4-6 hours |
| Bitcoin | $25 | $10 000 | up to 40 minutes |
Withdrawals details:
| Payment Method | Minimum Deposit | Maximum Deposit | Time for Transaction |
| --- | --- | --- | --- |
| Person to Person | – | $350 | 24-48 hours |
| Cashier Check (via FedEx) | $1 000 | $7 500 | 24-48 hours |
| Money Order | $1 000 | $9 500 | 3 days |
| Bitcoins | $50 | $10 000 | 24-48 hours |
| Bank Wires | $1 000 | $9 500 | 4-6 days |
---
Company Information
Veteran sports bettors will most likely be familiar with Sportbet as this platform has been up since the year 1997. Sportbet is actually a sister company of another betting platform known as 5Dimes.
Known for its Gold Standard in the gaming industry, Sportbet offers a unique gaming experience for punters and casino goers alike. Sportbet's origins lie in their first casino which was opened in Costa Rica back in the late nineties. They eventually expanded to sports betting and reached a whole new global level through their online gaming platform.
Today, they've gone further than just their website platform as they've also included a mobile platform to cater to a bigger market—the mobile market. Since everyone is already on their smartphones, Sportbet launched their mobile platform to ensure that their players can enjoy Sportbet games even when they're away from the computer. The mobile services are available through the dedicated mobile site version for Android, iOS and other devices. Read more about its specifications below.
---
FAQs
If you need more information about Sportbet, read the answers to the most frequently asked questions below.
Q&A
1. I am not using a smartphone, but my phone can access the internet. Can I still play using my phone?
Generally, you will be able to access the website depending on the model of your mobile device. However, you may not be able to access some features when you enter the website.
2. Is there a mobile welcome bonus?
For now, there is no mobile welcome bonus being offered by Sportbet.
3. How do you deposit Bitcoin using a smartphone?
In your mobile Bitcoin wallet, look for your wallet address. Provide that wallet address to Sportbet and wait for 40 minutes.
4. How do you withdraw Bitcoin using a smartphone?
Using your mobile Bitcoin wallet, you have to click on the Receive feature of the wallet and enter the wallet address of the Sportbet withdrawal feature. You should get the money in 48 hours.
5. Do I have to verify my account? How do I do it?
Yes, you do so that you can protect your identity and information. To do this, simply send a scanned picture of any valid government ID and a proof of address such as a utility bill or a bank statement.
6. How are the odds for racing?
Just like the sportsbook odds, the racebook odds are also very competitive. In fact, Sportbet offers some of the highest racebook odds in the industry.
7. Can I live stream using my mobile?
Yes, the live stream option is available for mobile phones.

---
Conclusion and Rating
Since Sportbet is one of the most well-known betting platforms in the industry, it's no surprise that it has a lot of followers. With its features, interactive mobile website, and simple navigation system, Sportbet mobile was able to attract a lot of mobile punters into its customer base.
Aside from just that, the sports odds are highly competitive and the Sportbet casino is simply amazing. It also contains a racebook which further attracts racing bettors.
Of course, the problem does lie in the fact that there is no dedicated mobile app. There are some people who still prefer using apps to a mobile website because apps do load faster and are actually more interactive than mobile websites. Because of this, not having an app discourages many players.
Another thing about the mobile website is that it is not aesthetically appealing. It's very functional and extremely easy to use. However, its simplistic design is rather plain and may not appeal to everyone.
Nevertheless, it deserves a pretty good score when it comes to the overall experience. With that, Sportbet will be getting a score of 7 over 10.
Related Articles