About OlyBet
OlyBet, previously known as Olympic-Online, started in the year 2010. Operated and owned by Olympic Casino Eesti Ltd., OlyBet provides the perfect online gambling experience. Olympic Casino was established in 1993 and has more than 3000 people employed. The company is the principal contributor to casino entertainment in Estonia. Olympic Casino also operates 24 casinos with slot machines in Jõhvi, Tartu, Narva, Tallinn, and Pärnu.
Playtech, Microgaming, iForium, Bet Construct, and Net Entertainment are some of the platforms that OlyBet is hosting from.
Olympic Entertainment Group operates and complies with the requirements of the international quality standard ISO 9001. The company also has its own charity programme and sponsorship. Considering themselves as a responsible organisation, they support several projects belonging to the social, educational, cultural and sports field. The company also ensures that they pay the annual gambling tax to the Republic of ESTONIA. The amount the company paid as gambling tax in 2016 amounted to more than 7 million euros.
---
Register at OlyBet
The registration process of OlyBet only requires some few easy steps. Creating an account would take five minutes or less. After making an account at OlyBet, you would be able to have access to their amazing sports betting features. Other than that, you would also avail OlyBet's sign up bonus.
Listed below are the steps in making an account on OlyBet's site:
Step 1: Open your internet browser and type in the address bar 'olybet.com' or click you can click the link
Step 2: After being directed to their website's homepage, locate the Join Now button on the topmost part of the page
Step 3: Click on the green 'New User? Join Now' box, which is located near the topmost centre of the homepage.
Step 4: You will be redirected to the registration page wherein there will be empty boxes for the necessary information.
Step 5: Fill out all the necessary information such as your email address and country of residence. Also, you can type in the password box to create a password for your OlyBet account.
Step 6: Clicking the Terms and Conditions means that you agree with the policies before proceeding with your registration.
After finishing verifying your account, you can now experience OlyBet's games and bonuses. Creating an account for both mobile and desktop is similar. You can also avail similar welcome bonus after signing up!
Steps for Activating and Verifying your Account
Unlike the usual verification process wherein you will be asked to verify through email or other personal identification numbers, OlyBet makes it more convenient for their users. Your account will be instantly verified by putting in your mobile number and typing in the verification pin that was sent to you via SMS.
How to Recover a Lost Password?
Sometimes you can encounter problems while trying to access your account. One of these problems includes forgetting your password. Click on the 'Log In' tab on the topmost part of the homepage and you will see the Forgot Password link below. You will be redirected to another page wherein you will be required to input your email or username.
Click the 'Get Instruction' button and an email will be sent with a link for creating a new password. Another way to retrieve your account is to contact and email help@olybet.eu.
---
Website Review – Menu and Design
The colour scheme of the website has a great combination of reds and blues on a white background. Its' clean layout and easy navigation provide an effortless access to all the menu options. With the nice contrast, you can easily see which is which.
The sports section of the site is divided into three organised columns. In the navigation box on the left, you can take a look at the following options: events, bet services statistics, 'hot' matches from Fifa, ATP Stuttgart and WTA, as well as the different sports. The centre column takes most of the space because it includes the highlights of current matches and the highest ranking players for the day. The rightmost and third column contains the betting slip in which the user can place a bet.
Overall, the design of OlyBet has a minimalist and straightforward approach. The contrast is easy on the eyes and provides users with an easy access to all the website's options.
---
Sports Betting
OlyBet is the perfect website for sports betting. They are famous in Europe specifically in the Baltic States (Estonia, Latvia, and Lithuania). Betting opportunities for sports such as football, tennis, basketball, ice hockey, and chess can all be found in OlyBet. Live betting also allows live online chats between the bettors and the dealers. The website has a broad selection of desirable plays that customers would surely take delight in.
Available Betting Options
There is a total of 16 sports betting options in OlyBet, including basketball, football, tennis, ice hockey, American football, Autosport, baseball, boxing, chess, cricket, e-sports, futsal, handball, rugby league, table tennis, and volleyball.
However, as one of the most popular and trending sports around the globe, OlyBet focuses on football betting. You will have greater odds by betting on the total number of goals and correctly operating handicaps. Placing bets on women's team is also an option.
Are the odds higher?
The sixteen different sports offered in OlyBet mainly caters to the Baltic States in Europe. Some North American sports like American football are covered as well. Specifically, in the top leagues, the betting odds rise up to 105-106% which is an acceptable range in betting sites.
---
Welcome Offer – €25 First Bet Bonus
As one of the few bookmakers that provide free bets as a welcome package, the hefty 25 euro is already larger than the amount offered by some of OlyBet's competitors.
After registration, new clients can avail the first risk-free bet. It serves as a welcome bonus that any customer can enjoy. To securely claim your first risk-free bet, you must directly sign up with OlyBet's website. Keep in mind that the welcome package only applies to your first bet and deposit. Lastly, the offer does not require a bonus code in order to avail of it.
---
18+ T&C apply | begambleaware.org | Play Responsibly
---
In-Play Betting
OlyBet offers great odds on various sports worldwide. The In-Play betting consists of sports like football, volleyball, table tennis and basketball. OlyBet provides live betting for eSports Championship and Pro League events as well.
---
Live Streaming Services
The live streaming option is not available at OlyBet. The website only provides live overviews of the current statistics for its respective field of sports. No updates have been released whether OlyBet plans to offer live streaming services.
---
Cash-Out Option
Unfortunately, the cash out option is not available yet at Olybet. This option gives players the chance to close their bets earlier, but for now it is not part of Olybet's services. Hope this will change in the future.
---
Casino
Being a betting bookmaker, OlyBet offers a variety of entertaining casino games. The top options are Lotteries, Jackpots, Blackjacks and many more. Each category has a number of exciting casino games as well. Olympic Casino also offers additional games with prizes in addition to the standard casino. These include Pink Panther themed slots, The Mummy Lotteries and Jackpot games with a theme of Greek gods.
100% Casino Bonus up to €300
Casino bonuses in OlyBet work in the same way to that of other sports betting platforms. OlyBet also allows customers to have casino bonuses up to €300. Availing a bonus does not need any codes as well. Just create an account, make your first deposit and avail 100% Casino bonus. However, the terms state that one active casino bonus is only valid for a single account.
---
Live Casino Games w/ Real Dealers
In the Live Dealer section, you'll find a wide array of live casino games with live dealers. Different games include European Roulette, French Roulette, Blackjack, and many more. Each game has a different category that players will surely find to be entertaining.
---
Poker from OlyBet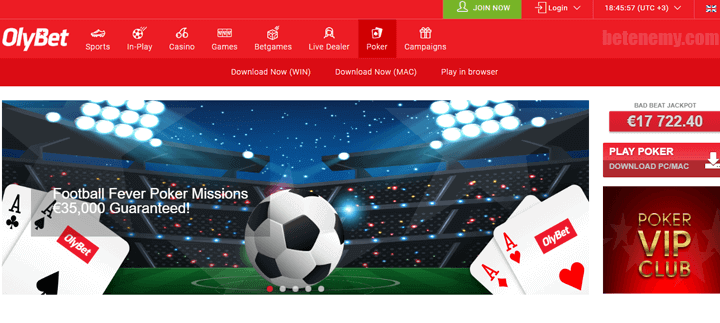 OlyBet accommodates everyone in their Poker section and gives priority to those belonging in their Poker VIP Club. Their Poker section can also be downloaded in PC/Mac or can be played in a browser.
New Players Bonus – €500 for All Customers
For all poker enthusiasts out there, OlyBet rewards all new poker players a no-deposit €500 bonus. The €10,000 New Player Freerolls gives players a chance to construct their bankroll at zero cost to themselves. OlyBet allows a space for new players to develop their skills while having a chance to earn money.
---
Betgames Section
There are different games in the Betgame section, all of which provide a fun, betting experience for the customers. To place a bet, users must log in into their account and make a deposit. Then they can place the bet. The different games offered are:
Lucky 5, 6, 7: all of which are dynamic games based on the lottery. Dice Duel, a unique game which allows competitors to bet with a simple dice rolling game, Wheel of Fortune, Bet on Poker, Baccarat, and War of Bets.
---
Deposits and Withdrawals
For deposits and withdrawals, OlyBet offers different methods for customers from various banks. With 0% commission, OlyBet allows a hassle-free transaction with direct bank transfers.
Deposit:
| Payment Method | Minimum Deposit | Maximum Deposit | Time for Transaction |
| --- | --- | --- | --- |
| Bank Wire Transfer | €2 | – | 1-5 days |
| Mastercard | €2 | – | Instant |
| Skrill | €2 | – | Instant |
| Visa | €2 | – | Instant |
| PaySera | €2 | – | Instant |
| Swedbank | €2 | – | Instant |
| Luminor Nordea | €2 | – | Instant |
| Coop Pank | €2 | – | Instant |
| LHV | €2 | – | Instant |
| SEB | €2 | – | Instant |
| Casino Olympic | €2 | – | Instant |
Withdrawal:
| Payment Method | Minimum Withdrawal | Maximum Withdrawal | Time for Transaction |
| --- | --- | --- | --- |
| Bank Wire Transfer | €5 | – | 1-5 days |
| Skrill | €5 | – | up to 24 hours |
| Casino Olympic | €5 | – | 1-5 days |
The maximum limits for both deposits and withdrawals are not stated by Olybet. They may depend on the payment method you choose.
---
Mobile Apps and Site Version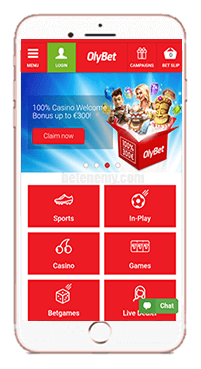 Accessing OlyBet from any mobile device is possible because the platform is supported in any mobile apps. The content did not degrade in any way compared to its desktop counterpart. The layout fits well with the mobile version too. This version is designed to function optimally and to be on par with the layout of any mobile device.
---
Affiliate Program
The affiliate program of OlyBet allows their partners to profit greatly with little effort. Convenient monthly payments that are made on time paired with high-profit structures makes OlyBet a worthy affiliate choice.
50% of the revenue brought by their future affiliate will also be shared in a hassle-free way. Long-term support and access to shares will be provided. Affiliates will also enjoy the following:
Easy commission payouts
Fixed one-off payment for each qualifying referred player
Paid with a percentage of the revenue from gaming
Reliable and transparency are achieved
---
FAQ's
Is there an opportunity to win additional prizes other than the bet money?

Some of the games allow an opportunity to win additional prizes, where a part of each bet is shared to the aggregated fund which is Jackpot.

How long does it take for a payment transaction to complete via wire?

It usually takes around 3-7 banking days. However, transactions that are made outside of the European Union may take an even longer period of time.

How to make a withdrawal?

The winning money will be paid out within 90 days after the bets have won in the organiser's betting points where the bets were made. The money will also be given to the person who has presented the winning tickets.

Are all the information I encoded during registration the only one needed?

Yes. Payment data is necessary to the personal information encoded during registration.

How do I make payments?

OlyBet allows payments from a personal credit card, bank account or e-wallet. Look for the Payment Methods tab and choose from different options that are available.

How long the does the betting welcome bonus last?

The maximum time the welcome bonus will be available is within 24 hours. It is for single use only as well.

What are the types of bets players can make?

They can have a single bet, a parlay, and a system bet.
---
Customer Care
Being in the bookmaker industry for more several years, OlyBet offers a high standard of customer service. They provided customers with a way to reach them via online chat and through email as well. You can reach OlyBet through the following accounts: Instagram and Facebook. In their secured and safe website, customers can enjoy a top-notch customer service now and in the following years to come.
---
Contacts
Reaching out to OlyBet via live online chat between 8:00-2:00 (GMT +3:00) and email are made possible through their site. Links are provided for their contact information. However, the option to contact them by telephone is not available.
Where is the location of Olybet's head office?
The company is registerd in Estonis and the exact address of its main office is: Pronksi tn 19, 10124 Tallinn, Estonia. You can also get a better perspective from Google Maps.
---
Final Verdict and Conclusion
With some missing minimal features that may allow OlyBet to provide customers with an optimal experience, the site rates a score of 8.5 out of 10. Nevertheless, the company is very welcoming to new users, providing great welcome packages and easy accessibility.
Related Articles