Betsafe Mobile App for Android
Like most online betting platforms, Betsafe developed a mobile application that is supported by Android. The Betsafe Mobile App enables you to place your bets, compare statistics and get updated on latest games and sports wherever you are. The only downside is you have to have a stable internet connection.
Navigating the app is simple and you can get to the sporting event you want with just a few clicks of the side menus. Furthermore, there are quick link buttons to the 'Starting Soon' matches so you can be updated on upcoming sports and other events.
How to download and install the Betsafe app for/on Android
Installing the Betsafe Mobile App on Android devices can be tricky since gambling apps, in general, are highly regulated by Google. However, you don't need to worry and buy a non-Android phone since you can follow the steps below:
Go to the Settings of your android device.
Tap 'Security'.
Tick 'Unknown Sources'.
Go to the Betsafe Mobile Site using your preferred browser.
A message will usually appear to ask if you would like to download the app. If it doesn't, search for the 'mobile' tab located somewhere in the site's footer.
Download the APK file and it will install automatically.
Run the app and bet away!
---
Betsafe Mobile App for iPhone and iPad
iPhone and iPad users can also avail of the Betsafe Mobile App. It is more or less the same as its Android counterpart in terms of interface and features. It is also user-friendly and can be accessed in places with a stable Internet connection. However, there are iOS versions that can't run the Betsafe Mobile App. A separate section will deal with compatibility issues and system requirements of the Betsafe mobile app.
How to Download and Install Betsafe Mobile App for iOS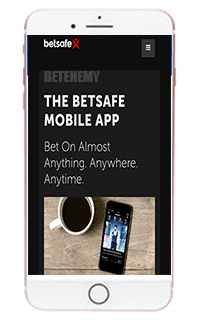 Betsafe mobile App is also compatible with iOS users. In fact, iPhone and iPad users can easily download the Betsafe Mobile App using the following steps:
Go to the iTunes store.
Search for Betsafe.
Tap 'Download'.
Run the app and bet away!
---
Betsafe Mobile Sports Betting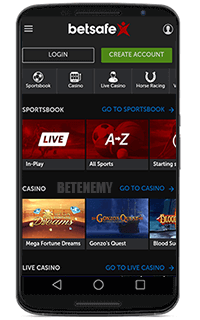 Betsafe Mobile App has a lot of features regarding sports betting. From the Betsafe Mobile App home screen, there is a cool top slider, which lists seven current in-play matches complete with the basic prices. You can easily navigate through more than thirty (30) sports categories, which will only take a few clicks to locate the sport or event you're seeking. From there, it's just a matter of scrolling down the betting markets to look at the best betting options.
There are quick link buttons to the 'Starting Soon' matches, the 'Live Video' streaming service and 'Top 25'. Starting Soon gives you an overview of upcoming games and sports. The Live Video feature lets you watch games, sports, and events in real time while the Top 25 feature lists the top 25 markets for the day with available features for live betting.
The actual betting process is done in three easy steps. First, open your account. Second, make a deposit. Third, place your bet and confirm placement. It is very simple indeed.
---
Mobile Site Version Review
The mobile site is a mobile browser version of Betsafe Mobile App. You can compare this with the desktop version of Betsafe since it is just recalibrated to be mobile user-friendly. However, the website for Betsafe on mobile devices is a little different from the Betsafe app android and the Betsafe app iPhone and iPad versions.
---
Differences Between Betsafe Mobile App and Mobile Site Version
The main difference between the mobile app and the mobile site version is how it is sourced and hosted. The Betsafe mobile website is not simply a responsive model of the full desktop version. It is an 'm.' not a 'www.' website. Hence, the site is formulated to adjust to your mobile device, be it an Android or an iOS.
Other than that, the interface, the features, the look and feel of the Betsafe mobile site and mobile app are the same. Moreover, it provides the bonuses and offers just like when you are using your desktop with a less bulky and portable device.
---
Betsafe Mobile Casino
The Betsafe Mobile Casino boasts of popular online casino games with the same level and feels as an actual face-to-face casino. Popular Blackjack, Roulette and slot machines are top of the line. When we say the top of the line, it means that the hosting and testing are done by third-party contractors, namely, SKL (National Laboratory for Forensic Science in Sweden) and Technical Systems Testing in Canada.
---
Betsafe Mobile Poker Section
Poker is taken to a whole new level in Betsafe Mobile App since it has a separate gaming room known as Poker room. The Poker room is part of the Microgaming global platform which lets you bet with different players from around the world. It is an exciting way of interacting with people from different countries, even if it is just through betting.
---
Betsafe Mobile Bonus
Installing the mobile app is not just to experience Betsafe on the go. It is also one way of earning a wide range of Betsafe bonuses, freebies, and prizes. If you join through the mobile app and create an account, a Welcome Bonus of up to £25 can be given to you. It can be claimed after completing the registration process.
More info:
If you are keen on Sportsbook, Betsafe mobile app offers Risk-Free Bets regularly. You just have to be patient in looking for those bets in sports events. The Mobile Casino is also another avenue for promotions. There are Free Spins given on slot machines from time to time. Finally, the online casino has plenty of welcome or newbie offers, depositing bonuses and quick cash back.
---
System Requirements and Compatibility
Even though the Betsafe Mobile App is compatible with both Android and iOS supported devices, there are limitations to its compatibility. This is not a technical issue. It just so happens that an older Android or iOS operating system does not have the capacity in memory and features to run and operate the Betsafe Mobile App.
This section will tell you if your smartphone or mobile device can be used to download, install and run the Betsafe mobile app.
For Android
Android versions 4.0 and above can cater to the mobile app.
For iOS
iOS versions 5 onwards are very much capable of running the mobile app.
The following android and iOS devices are compatible with the Betsafe mobile app:
Apple iPhone 5
Apple iPhone Mini
Apple iPhone 4S
Apple iPhone 5C
Apple iPad 4
Apple iPad Air
Apple iPad Mini
Apple iPad Mini 3
Apple iPad Mini 2
Apple iPhone 4S
Apple iPhone 5S
Apple iPhone 6
Apple iPhone 6 Plus
---
Apple iPhone 4
Apple iPhone 4
Apple iPhone 5
Apple iPhone 4S
Apple iPad 4
Apple iPad Air
Apple iPad 2
Apple iPad Mini 2
Apple iPad 2
Apple iPhone 5C
Apple iPhone 5S
Apple iPhone 3GS
Apple iPod Touch 4
---
BlackBerry Z30
BlackBerry 9300
BlackBerry 9810
BlackBerry 9360
BlackBerry 9900
Google Nexus 9
Google Nexus 7
Google Nexus 10
Google Nexus 4
Google Nexus 7 2013
Google Nexus 5
HTC One Max
HTC Windows Phone 8X
HTC Golf
HTC One S
HTC One X
---
HTC Sensation
HTC Thunderbolt
HTC First
HTC Desire 601
HTC One XL
HTC DROID DNA
Huawei Ascend P1
Huawei Ascend Y300
---
LG Optimus F3 P659
LG Optimus L5 E617G
LG G2
LG G2 Mini
LG G3
LG G-Flex
LG G4
Nokia Lumia 620
Nokia Lumia 920
Nokia Lumia 928
Motorola DROID Ultra
Motorola DROID Razr
Motorola DROID Razr M
Motorola DROID Mini
Motorola Moto E
Motorola Moto G
---
Samsung Galaxy S III LTE
Samsung Galaxy S II
Samsung Galaxy Xcover
Samsung Galaxy Rugby LTE
Samsung Galaxy Note
Samsung Galaxy Tab 10.1 ICS
Samsung Galaxy S6
Samsung Galaxy S5
Samsung Galaxy Nexus
Samsung Galaxy Note III
Samsung Galaxy S III
Samsung S730M
Samsung Galaxy Note II
Samsung Galaxy Express I8730
Samsung Galaxy Note 10.1
Samsung I8190-Galaxy S III Mini
Samsung Nexus S Digital
---
Samsung Galaxy Ace III
Samsung Galaxy Express 2
Samsung Galaxy Grand
Samsung Galaxy S IV Mini
Samsung Galaxy Tab 3
Samsung Galaxy S4 Mini
Samsung Galaxy Note 8.0
Samsung Galaxy Mega 6.3
Samsung SGH-I537 4.2
Samsung Galaxy Note III
Samsung Galaxy Note Pro 12.2
Samsung Galaxy S5
Samsung Galaxy Tab 4
Samsung Galaxy Tab S
Samsung Galaxy S IV
Samsung Galaxy S III
---
Sony Xperia E1
Sony Xperia M
Sony Xperia Z
Sony Xperia Z Ultra
Sony Xperia ZL
Sony Xperia Miro
Sony Xperia S
Sony Xperia T
Sony Xperia SP
Sony Xperia Tablet Z2
Sony Xperia Z2
Sony Xperia Z1
---
Betsafe Mobile Payment Methods
Nearly every payment method available is accepted by Betsafe. The table below shows the summary of payment methods and their required payment amount, be it deposit or withdrawal.
| For deposit | Method | Minimum | Maximum |
| --- | --- | --- | --- |
| 1. | Paypal | £5 | £5 |
| 2. | Skrill | £5 | £5 |
| 3. | Neteller | £5.5 | £5 |
| 4. | Ukash | £5 | £5 |
| 5. | Credit Cards | £5 | £5 |
| Withdrawal | Method | Minimum | Maximum |
| --- | --- | --- | --- |
| 1. | Paypal | £5 | £5 |
| 2. | Skrill | £5 | £5 |
| 3. | Neteller | £5.5 | £5 |
| 4. | Ukash | £5 | £5 |
| 5. | Credit Cards | £5 | £5 |
---
Company Information
Betsafe is an online casino that is also a betting platform, which caters to players around the globe. It offers a wide variety of sports and online events to cater to different types of customers.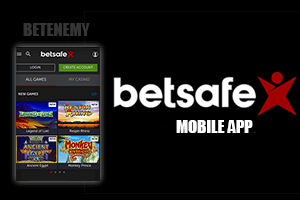 Some of these games are poker, horse racing, and tournaments. Betsafe offers live streaming of sports and events, and live betting as well. Live casino games are also available. The official site of Betsafe boasts of an interactive and user-friendly interface that is easily accessible by desktop, laptop, and even mobile devices.
There are different types of Betsafe platforms for you to choose from. Betsafe Sportsbook offers good odds on local as well as international sports. The excitement is escalated because Betsafe offers a Live Betting feature where you can bet while seeing the game statistics in real time.
Betsafe Casino, on the other hand, is more focused on online games such as roulette, slot machines, and blackjack. A separate interface is allotted for poker called Betsafe Poker room. Betsafe is part of Microgaming global poker platform.
---
FAQS
Why can't I download the Betsafe mobile app from my android device?

You can enable the install from unknown sources security option in the settings of your phone for you to install the app successfully.

How can I make my first deposit?

After registering your account, you can make the deposit using Credit Card, Bank Transfer, E-Wallets, and Bank Link Transfer, then click deposit.

Can I make deposits for other accounts, i.e. my friend's account?

No, You can only deposit in your account.

Is there a fee for deposits?

The Betsafe mobile app does not charge any fee for deposits. However, the payment mechanism may charge your transactions.

How quickly are withdrawal requests processed?

Normally, it takes three banking days for the money to be credited in your account.

Can I track my bonuses?

Yes. You just need to go to 'My Account', and then tap on 'Bonuses'.
---
Verdict and Apps Rating
The Betsafe mobile app offers the required features of an online betting platform. It is also designed in such a way that players (both first time and regular players) are not intimidated by the design and interface. It has a lot of cool features and bonuses that will make you want to login everyday. Furthermore, the games in the online casino and sportsbook are tested by third party contractors to ensure that you get the highest quality of games and experience. Betting and updating stats in real time is also included under the Live Betting feature of the app.
However, as with all mobile apps, the regular updating and systems upgrade of Betsafe Mobile App can cause a delay in your mobile device. Furthermore, there is very little bonus and freebies offered as compared to other more established betting apps. Given the abovementioned summary, Betsafe Mobile App should be given a rating of 8 out of 10.
Related Articles