Betrally App for Android
At the moment, Betrally does not offer a mobile application. However, it has a mobile site version that comes with optimized layouts, attractive designs, and unique functionalities. It also has the same features as its desktop version, making it a convenient platform to use when you're not at home.
---
Betrally Mobile App for iOS
There is also no Betrally mobile app for iOS. However, iOS users can always use their mobile browsers and access the mobile site version of Betrally. With the mobile site version, there's no need for you to make downloads and installations. Plus, you won't take an amount of space from your storage as the platform is not installed on your device.
---
Betrally Mobile Version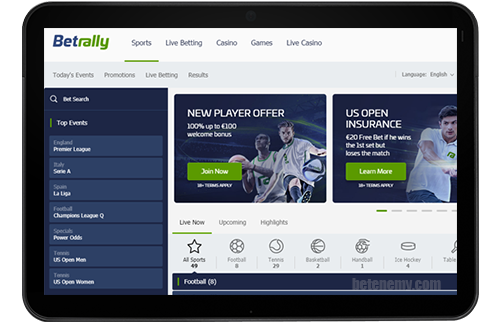 Betrally's mobile site version offers a mobile version feature that enables its clients to quickly switch from the desktop version to the mobile site version without exiting the browser. What's more, you will definitely love the version's easy-to-use criterion, which is incorporated in all its sports, casino, and live betting platforms.
Betrally's mobile site version and desktop version have similar layouts and designs. They have the same colour scheme of blue and white, and they are designed with well-organized layouts that make the platform look professional.
---
Mobile Site Features
Although it's not an app, Betrally's mobile site version has a number of features to boast of. Here are some of the most remarkable features of Betrally's mobile site version:
Mobile-friendly Layout

The best thing about Betrally's mobile site version is that it's optimized for mobile use. The layout is specially designed to fit smaller screens.

Fast Loading Time

Unlike other mobile sites, Betrally's mobile site version loads fast. It is highly responsive, so it really doesn't lag. With this, players can navigate easily and smoothly from one page to another, and they can hop from and to different sections and bet on the games and events that they like best.

Universal Compatibility

Players can access the mobile site version of Betrally regardless of the kind of OS that their device has. This is because the site version is compatible with just about any mobile device, OS, or brand. This feature practically makes Betrally the best platform to use for everybody.
---
Mobile Sports Betting
If you are looking for a wide range of betting markets, Betrally's mobile sports betting might not be your ideal option. However, even if it does not offer a wide range of sports betting markets, it's gaining more and more popularity. Among the top reasons leading to its popularity is the website's generous welcome bonus of £100 as well as its reload bonus of £150, which are made exclusive to its new customers.
With or without the welcome bonus, you will surely enjoy sports betting on Betrally's mobile platform. To start with, there are over 30 sports markets you can comfortably wager on. Among these include football, basketball, rugby, volleyball, tennis, cricket, snooker, and many more. As soon as you log in, you will immediately see the ongoing sports events as they are displayed on the homepage of the website. Those that will kick off soon are displayed on a separate section.
If you are not the freelancing type, do not frown as there is a Bet Search section. You can utilize the section to quickly retrieve your desired match in the shortest time possible. There is also a highlighted category to ensure that you do not miss some of the key events.
About the betting odds, they are quite reasonable. You will sometimes find high odds, mostly during the weekends on the live betting section.
---
Betrally Mobile Casino
Playing casino games at Betrally mobile casino is indeed possible as there are numerous casino games offered. Punters also enjoy quite a variety of games at amazingly high odds. Among the most popular Betrally mobile casino games include Blackjack, Roulette, Aloha, Quest, Starburst, and many more.
At Betrally, you can never get enough from its mobile casino platform. Its games are evenly categorized into four main divisions. You can either choose to indulge in its Slots, Table, Video Poker, or in Real Realer games.
However, among these divisions, its Live Dealer section offers the ultimate casino thrill. If you wish to fully utilize the site, you should try Betrally's Live Dealer games.
---
Mobile Bonuses
Whether you are a mobile or desktop user, there are plenty of bonuses for you to utilize. The first bonus you are likely to be attracted to is the £100 welcome bonus. All new customers on both platforms are entitled to this bonus. To spice it up even more, the bonus has an attractive low wagering requirement with a generous period of up to 90 days to achieve them.
To be liable for the above welcome bonus, you need to make a minimum deposit of £10. Also, you are required to key in the required bonus codes and follow the required terms and conditions to receive the welcome bonus. Other bonuses include a monthly reload bonus of up to £150, a weekly mobile boost of up to £10 worth of free bets, and a combo winning boost that is offered on any 4-fold combo bet placed at 1.2 odds or more.
Up to £100 Cashback Every Weekend
As an existing or new customer at Betrally, the first thing you have to do is to ensure you play mobile casino games from Wednesdays to Tuesdays. By doing so, you will be guaranteed 10% cashbacks up to £100 every Wednesday even if you fail to make any winnings. This is quite an awesome addition to your initial casino games, and it also means that you will get some of your investments back.
Whether you are an experienced player or not, Betrally's Mobile cashback option is the best option to guarantee your money back. Even with a validity of 7 days, its modest wagering requirements ensure you get your money back.
---
System Requirements and Compatibility
As said, there is no Betrally app available for Android and iOS devices. However, there is a mobile site version which all players can use regardless of the OS version of their device. This mobile site version is also great because it doesn't need to be downloaded or installed on your mobile device. Without the compatibility and system requirements, most of today's smartphones won't really have problems accessing the mobile site.
Here are some examples of compatible devices:
Samsung Galaxy
Sony Xperia
Lenovo
LG
iPhone
iPod Touch
iPad
iPad Pro
---
Payment Methods
Betrally takes pride in having some of the most reliable payment options in the betting world. These options can be conveniently accessed from the desktop or mobile site version. Below are some of these options and their minimum and maximum limits:
| Paymenth Method | Deposit Minimum | Deposit Maximum | Time for Deposit |
| --- | --- | --- | --- |
| Visa | €10 | - | Instant |
| Bank Wire Transfer | €25 | - | 1-3 days |
| Neteller | €10 | - | Instant |
| Skrill | €10 | - | Instant |
| MasterCard | €10 | - | Instant |
| Paymenth Method | Withdrawal Minimum | Withdrawal Maximum | Time for Withdrawal |
| --- | --- | --- | --- |
| Visa | €20 | €20 000 per month | 3-5 days |
| Bank Wire Transfer | €50 | €20 000 per month | 3-5 days |
| Neteller | €10 | €20 000 per month | up to 48 hours |
| Skrill | €10 | €20 000 per month | up to 48 hours |
| MasterCard | €20 | €20 000 per month | 3-5 days |
Skrill, Neteller, Bank Wire Transfer, MasterCard, Visa
Skrill, Neteller, Bank Wire Transfer, MasterCard, Visa
---
Company Information
As the name suggests, Betrally leaves very little questions on the nature of its activity. The website is clearly aimed at betting enthusiasts. It has one of the best casino games with its latest updates on its poker platform. However, these updates are only a tip in the iceberg. The website boasts of numerous betting sections covering all niches in an aim to improve customer retention.
The website allows customers to make deposits and withdrawals in numerous currencies. It also has a language selection option that lets you choose your most preferred language. When it comes to its customer support, Betrally is indeed unmatched. The platform has a team of well-trained and well-mannered specialists who are ready to attend to your needs 24/. All this makes Betrally a reliable website at any time of the day.
---
FAQs
In case you might be having questions regarding Betrally mobile, below are some of the frequently asked questions and their corresponding answers.
Does Betrally offer welcome bonuses to its mobile users?

Betrally Mobile offers a welcome bonus of £10 to all new customers. All you need to do is sign up with the required bonus code, claim your bonus, and adhere to the terms and conditions.

What are the available mobile payments?

There are numerous payment options to make deposits and withdrawals in Betrally Mobile. Some of these payments include MasterCard, Neteller, Skrill, pay Safe, Bank Transfer and many more. What's more, depositing or withdrawal on any of the above methods is absolutely free.

Are the odds high?

Betrally's odds are quite reasonable. Although you might find relatively higher odds during the weekends, Betrally does not pride themselves as a website with the highest odds. However, you can always utilize its live betting platform as it offers the highest betting odds.

Are the applications fast?

Definitely! Betrally Mobile app's designers ensured you receive timely updates at the highest speed possible. To utilize the application to its maximum speeds, ensure your device has a minimum RAM of 4GB or more and a minimum ROM of 1GB. Also, a working 4G network would work to your advantage.

Is there a dedicated customer care support?

Yes. Betrally offers one of the best online customer care services in the betting world. And of course, these services are offered on a 24-hour basis. You can either contact Betrally either through its online chat or its email platform.

What is the size of the mobile app?

Betrally's mobile app is approximately 50MegaBites. However, this size changes with time due to frequent updates. It is also advisable to ensure you have enough space on your device before downloading Betrally as it will require saving your usage data.

Is there a cashout option for mobile users?

Yes. This option can be accessed from the live sections on both sports and casino platforms. You can make settle your live bets using this option anytime as long as your bet is still active.
---
Conclusion and Rating
There is no doubt that Betrally offers a great betting experience on both its desktop and mobile versions. Powered by the powerful software by SB Tech, the website's mobile application is indeed exceptional. Furthermore, its welcome bonus is something to look up for. The majority of the websites today do not offer as much as the website rewards free of charge to its new customers. In fact, it's among the top websites with the highest welcome bonus.
Of course, Betrally is not a perfect platform. It has its own cons, too. Though it might have a few downsides, it definitely deserves the crowning glory in terms of customer service, welcome bonuses, and sports betting markets. With this, it deserves to be rated with 8 over 10.
Related Articles