Mobile app for Android
Unlike most other betting apps, Betfred doesn't have one single app for its users, it has multiple. These apps have created on the basis of interests and allow users to explore the app to the fullest extent. Betfred has different apps such as Betfred Sports App, Betfred Casino App, Betfred Live Casino App, Betfred Bingo App and Betfred Vegas App.
Each of these apps stands out for one particular reason: they are extremely easy to use. It is not hard to see that the Betfred mobile apps have been created with the users' comfort in mind. While using the app it won't matter how unfamiliar you are with apps, you will be able to explore it with the utmost ease. The Betfred Android app has exclusive features that keep users glued to the app. The Betfred app also has live streaming services, which help interested parties catch live matches through the app.
How to download and install Betfred app for/on Android
Those who are interested in the Betfred app for Android need to know that it is not available in the Play Store. Instead, it has to be downloaded directly from its mobile site. The Betfred Android app is extremely easy to download though you will have to follow our instructions to be able to do so. Since there are multiple Betfred mobile apps, you will also have to pick the ones you want to download. Here is what you need to do to download and install the Betfred mobile apps:
Register with Betfred online. You can do this through the mobile site version of Betfred or the Betfred website.
Go to your phone's setting and look for the 'Security' option.
Click on 'Security' and look for an option that says 'Unknown Sources'.
Enable the 'Unknown Sources' option. This will allow you to download an app from outside the Play Store.
Go to the Betfred mobile site – http://www.betfred.com/mobile. On this site, you will find a section that says Download Betfred Apps.
From the section, pick whichever apps you want to download. Click on them. This will automatically begin to download the apk. file of the app on to your phone.
The installation process will begin automatically as soon as the download finishes. An icon will appear on your phone after the installation is complete. You can begin using your app after logging in to the account you created earlier.
Don't forget to go back to the 'Security' settings to disable the 'Unknown Sources' option.
---
Betfred app for iPhone and iPad
The Betfred mobile apps for iPhone and iPad users are as amazing as the Betfred Android app. There are multiple mobile apps such as the Casino, Live Casino, Bingo, Sports apps for Apple users as well. They are recognized for their easy to handle interface, something that makes them very popular among users. The Betfred apps for Apple users also give their users an access to international markets and have a feature for live streaming.
How to download and install Betfred app for iOS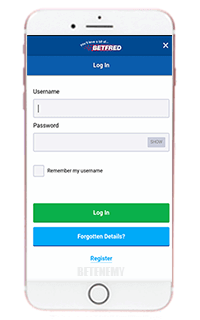 Downloading the Betfred mobile app for iOS is an extremely straightforward process. It can be done within minutes and users can begin using the app immediately after downloading it. If you are unfamiliar with how to download an app on your iPhone or iPad, all you have to do is follow our instructions:
Visit the Betfred mobile site or website to register on Betfred and create an account for yourself.
Decide which Betfred app you want to download. Then visit your Apple iTunes store and type the name of the app you want into the search engine.
After locating the app, press the download option.
The app should complete the download and installation process within seconds, depending upon the speed of the Internet.
Once it has done so, an icon for the app will appear on your phone. Click on the icon to begin using the app.
---
Betfred mobile sport betting
The sheer number of options available to them delights the users of the Betfred mobile sports betting app. The app users have an access to hundreds of markets around the world and can bet on a range of sports such as football, cricket, horse racing, tennis, golf and many more.
The Betfred mobile sports betting app also has a number of exclusive features like Quickbet, In-Play, and Cash Out, which makes playing on the app even more exciting. The Betfred mobile app for sports also offers many mobile bonuses just for the users of the sports betting app.
---
Mobile site version review
The mobile site version of the Betfred site is extremely popular for multiple reasons. It gives its users an easy access to all that is offered by Betfred through their phones. Another reason for its popularity is that despite having so many options, it somehow manages to remain uncluttered. Users can also register for Betfred through the mobile site version. The site even contains links to all the Betfred mobile apps – Live Casino, Casino, Sports, Poker, Vegas and Bingo. They can be downloaded directly from the mobile site. Like the apps, the mobile site has live streaming, various features and a number of bonuses. Those who do not wish to download the Betfred apps have a perfect alternative in the mobile site version.
---
Betfred mobile casino app review
The Betfred mobile casino app gives its users the feeling of being in an actual casino. There is no casino game that you can't play on the app as it has them all – Slot games, Black Jack, Scratch Card Games, Roulette, Baccarat and many others.
Apart from these, new games are added to the app on a regular basis, giving users hundreds of options to choose from. Even better is the fact that the Live Casino app allows users to participate in live casino games that are played in real time.
The Betfred app for casino also gives its users some truly amazing bonuses to its new users. The app also has plenty of unique features that keep the players engaged. There is so much to do in the app, that you will never get bored of it.
---
Betfred mobile poker app review
Poker is one of the most fun games to play. The best part about it is that anyone can play it. It is also one of the most frequently played options on the Betfred mobile site and website.
Thus, it shouldn't come as a surprise to anyone that it has its own mobile app. From amateurs to diehard poker fans, there is something for anyone. Poker fans are also welcome to participate in poker tournaments through the app.
There are a wide number of promotions and bonuses available for users, including a special mobile bonus that is applicable only to new users. If you want an online platform to indulge your poker obsession, the Betfred Mobile App for poker is the best place to be.
---
Differences between the mobile app and mobile site version
There are a few basic differences between the mobile site version and the Betfred Apps. However, those worried about the availability of options can relax because both versions have the same number of opportunities and choices available. Obviously, the interfaces of the Betfred app and the mobile site have some minor differences. They are still equally easy to use and navigate. While users may take a couple of gaming sessions to get used to the changes, it's not a big deal. The main difference between the two is that the mobile site version is a single platform with all the options from Betfred available on it. On the other hand, the Betfred mobile apps cater to an individual game. Therefore, there are multiple apps called Live Casino, Poker, Casino, Bingo and Vegas. Each of them needs to be downloaded individually. The advantage of these is that they allow users to explore all the features of each option more thoroughly. The disadvantage of these is that people can have more than one interest. Downloading multiple apps can be annoying as they take up a lot of space on your phone.
---
Betfred mobile bonus
Betfred apps offer a number of bonuses to their users as incentives. While most apps have their exclusive promotions and bonuses, each of them has an offer for new users that allows them to receive some sort of cash back or free play while using the app. After depositing a minimum amount of £10, a user can receive free bets worth £30. Users can also receive spin bonuses such as 30 free bonuses. Users are also welcome to withdraw any winnings that they may receive from these special Betfred bonuses. Apart from these, the Betfred mobile apps have constant promotions available for their users. This makes playing not only more exciting but also allows you to up the stakes without risking anything.
---
System Requirements and Compatibility
All apps have certain system requirements for the phones and devices they are being downloaded to be compatible. These requirements vary on the basis of the operating system as well as the app. However, it is vital that they are met. Without fulfilling these requirements you will not be able to download and use the app you want. As the most common operating systems are Android and iOS, we have mentioned the system requirements for both of these.
For Android
The minimum system requirement for Android users is that their phones must have at least the Android 4.0. Even though it is unlikely that your phone has a version of Android older than this one, you should still check it before attempting to download the Betfred apps.
For iOS
For Apple users, the oldest version of iOS that can support the Betfred apps is the iOS 8.0. Any versions older than this one are not compatible with the mobile apps.
Here are the Android and iOS devices that are compatible to use the Betfred App:
Apple iPad 4
Apple iPad Air
Apple iPad Mini
Apple iPad Mini 3
Apple iPad Mini 2
Apple iPhone 5
Apple iPhone Mini
Apple iPhone 4S
Apple iPhone 5C
Apple iPad 2
Apple iPhone 5S
Apple iPhone 6
Apple iPhone 6 Plus
Apple iPhone 4S
---
HTC One Max
HTC Windows Phone 8X
HTC Golf
HTC One S
HTC One X
HTC Sensation
BlackBerry Z30
BlackBerry 9300
BlackBerry 9810
BlackBerry 9360
BlackBerry 9900
HTC Thunderbolt
HTC First
HTC Desire 601
HTC One XL
HTC One M8
HTC One Mini
---
Huawei Ascend P1
Huawei Ascend Y300
Motorola DROID Ultra
Motorola DROID Razr
---
Motorola DROID Razr M
Motorola Moto E
Motorola DROID Mini
Motorola Moto G
Nokia Lumia 620
Nokia Lumia 920
Nokia Lumia 928
Samsung Galaxy S6
Samsung Galaxy S5
Samsung Galaxy Nexus
Samsung Galaxy Note III
---
Samsung Galaxy S III
Samsung Galaxy S III LTE
Samsung Galaxy S II
Samsung Galaxy Xcover
Samsung Galaxy Rugby LTE
Samsung Galaxy Note
Samsung Galaxy Tab 10.1 ICS
Samsung S730M
Samsung Galaxy Note II
Samsung Galaxy Express I8730
---
Samsung Galaxy Note 10.1
Samsung I8190-Galaxy S III Mini
Samsung Nexus S Digital
Samsung Galaxy Ace III
Samsung Galaxy Express 2
Samsung Galaxy Grand
Samsung Galaxy S IV Mini
Samsung Galaxy Tab 3
Samsung Galaxy S4 Mini
---
Samsung Galaxy Note 8.0
Samsung Galaxy Note Pro 12.2
---
Betfred Mobile payment methods
Betfred has many mobile payment methods available for its users. Most of these are cards and e-wallets. Though the majority of these do have minimum deposit and withdrawal requirements, they are so small that they hardly make any difference. They do not charge any fees. Some of the options you can use are Paypal, Skrill, Neteller, Ukash, Debit Cards and Credit Cards:
| № | Method | Min. Deposit | Min. Withdrawal | Max. Deposit | Max. Withdrawal |
| --- | --- | --- | --- | --- | --- |
| 1. | Paypal | £5 | £5 | £45000 | £5000 |
| 2. | Skrill | £5 | £5 | £45000 | £6500 |
| 3. | Neteller | £5.5 | £5 | £45000 | £4500 |
| 4. | Ukash | £5 | £5 | £5000 | N/A |
| 5. | Credit Cards | £5 | £5 | £5000 | £9999 |
---
Company Information
Betfred is a popular online betting app. Founded in the 1960s as a shop, it gained popularity over the years before the 21st century caught up to it. One of the biggest companies in the betting business, Betfred is also one of the biggest names in race sponsors. The online website of Betfred that allowed betting enthusiasts to gamble online was created and launched in 2004. Since then, Betfred has never looked back. As technology grew, Betfred launched its mobile apps, which enabled players to bet through their phones.
---
FAQs
Do I need access to the Internet to use the Betfred Mobile Apps?

Yes, you do. Without access to the Internet, you will not be able to use any of these apps.

If I lose my phone, will my information be compromised?

Since the apps also need login information, this is highly unlikely. However, you can also contact us through our customer care services to prevent such a thing from happening.

Which are all the mobile apps that Betfred has?

We have a number of apps for our users. These include Live Casino, Casino, Sports, and Bingo among others.

What kind of bonuses do the Betfred apps offer?

Betfred apps offer a number of bonuses and promotions at any given point. One consistent bonus is the mobile bonus that new customers receive on joining the app.

I have placed a bet by mistake. Can I cancel it?

Yes, you can.

Does the Betfred app have live streaming services?

Yes, it does. You can use it to live stream horseraces and other events from around the world.

Do I have to register for each app individually?

No, you can use the same account for each app, the mobile site as well as the website.
---
Verdict and Apps rating
We really like the Betfred apps. There are unimaginable amounts of options, they have been created carefully and are extremely easy to use. Our final verdict is that if you don't download the Betfred betting apps, you are definitely going to miss out. We give the apps a final score of 9 out of 10.
Related Articles