Updated: 29 Janyary 2019
Mobile apps for Android
I downloaded the new Android sports app for Bet365 directly on my smartphone (later on my tablet too)! This app can also be found on Google Play. The app can be directly downloaded from the bookmaker's website too as I did.
I cannot say anything bad about Bet365's app. The company is among the largest in the industry and its Android app is full of betting possibilities on the market. It is easy to use, the interface is quite intuitive and it comes with numerous excellent features.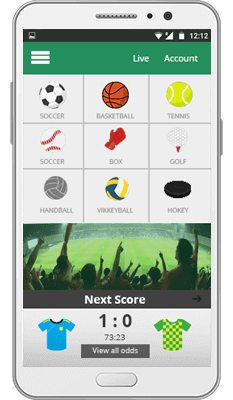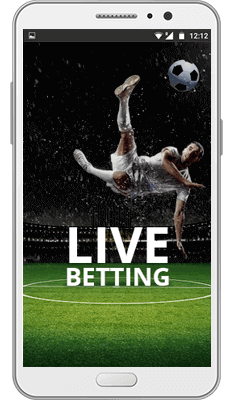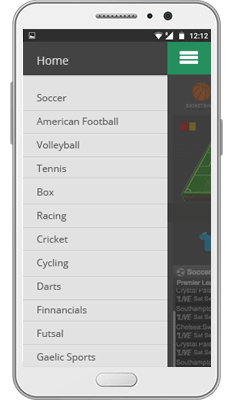 ---
How to install the Android app for Bet365?
These are the steps I made to download bet365's Android app on my phone:
First of all, I have changed my device's setting: Settings > Security > Unknown sources > Check OK and it's done
Then loaded bet365.com on my device's browser ( or directly – mobile.bet365.com);

 



I scrolled all the way to the bottom where I saw an invitation to install "View all Bet365 apps…"
The system gave me the chance to choose the desired app (whether it be Sports, Poker or Casino);
At the end I clicked "Download," waited for the application to download and installed it.
---
Mobile app for iPhone and iPad
Bet365 is among the largest of the online bookmakers offering terrific odds and its mobile app for the iOS platform offers a wide spectrum of Pre-match and In-Play markets, along with Live-stream directly on iPhone or iPad. Unlike the app for Android, this one can be directly downloaded from the Apple app store. I did this on my iPhone.

In order to successfully finish installing Bet365's app, follow these steps:
I made a registration at Bet365 directly > from here;
I used the download icon of the application directly from Itunes;
I have downloaded and then installed the app for my iOS device.
More applications from Apple Store:
 
I've also found out that there is an application of Bet365 on Windows Store which can be downloaded directly.
---
Mobile version of the site
The mobile version's interface and that of the apps for the two different platforms is not very different as its intuitiveness for navigation remains the same and I noticed that I have direct access to all popular sports and in-play betting options where I get to follow the match in real time with statistics for offence, dangerous offence and possession of the ball.
I also noticed the interface of the mobile version as well as that of the mobile apps can be used in different languages.
The pages of the mobile site are loaded almost instantly and are void of lags. I can say with a clear conscience that the mobile version of Bet365 is one of the best in the industry – navigation is extremely easy and access to a desired option is pretty shortened and placing bets is with only a few clicks. Directly from the website I can create a new account, deposit funds and if necessary, contact customer support.
---
What features are incorporated in the apps and the mobile version?
My experience show that whichever option I choose (mobile version or app), I have full access to favorite options of Bet365 such as the much-preferred IN-PLAY bets where I can follow the development of the game and track the odds in real time. Also, I can place my bets while the match is going on. In the "Live" section I can bet on some of my favorite sports such as Football, Tennis, E-sports, Badminton, Basketball, Cricket and many others.
More and more players are expressing a desire to bet in real time so the bookmakers Bet365 pays special attention to this section. Here the players get a schedule for all upcoming events on which they can bet.
The Cash-out option is also offered on the mobile version and the apps of Bet365. With this option I can stop my bets even if I am on the move.
The Live Streaming section for mobile devices also deserves special attention. In this section I have the opportunity to follow most events which are broadcasted on Bet365's website. However, in order to have access to this feature I must have a positive balance in my account.
Besides that, the site or the respective mobile app offer opportunities for betting on a wide variety of sports. Included here are some of the most popular ones: Basketball, Baseball, Boxing, Football, Tennis and many others. Also I have access to numerous Casino and Poker games with a wide range of bonus offers.
---
Other applications for the bookmaker
Bet365 constantly develops its range of betting offers. This is true for the mobile apps for different sections of the site as well. Once I enter Bet365 through my mobile device, at the bottom, I can check for different types of apps. When I last checked them, there were standalone apps for Casino, Poker, News and other products.
---
Mobile bonuses
At the moment Bet365 doesn't offer any special promotions for mobile customers. Nevertheless, I can access any of the actual offers which I have described at the Bet365 bonus code review.
---
What are the System Requirements?
My revisions show that if you are using an Android-based device you will need a version of 4.0 (Ice Cream Sandwich) or newer. Bet365's app works equally as good on Android, Windows phone, iOS and Blackberry smartphones and tablets. In order to watch matches live, your iOS version must be 5 or newer. The mobile version of Bet365 is available for smart devices such as:
Android: Samsung, HTC, Lenovo, LG, HUAWEI, Sony, ZTE, Asus, Acer and others.
iOS: Iphone 3/3S, 4/4S, 5/5S, 6/6S, 7, Ipad.
You can find the full information on the site and the apps in our professional review of Bet365.
---
Payment methods through mobile devices
All of the aforementioned bonuses and features are available only if you deposit some amount in the account beforehand and start placing bets on different types of sports. In order for this to be possible, the bookmaker offers a wide variety of methods for making a deposit. Our experience shows that every method which is available in the website, is also available through the apps.
 

---
In the industry of online betting, Bet365 is considered to be one of the leaders with millions of users from different parts of the world. This bookmaker was founded many years ago in the United Kingdom, and the site for sports bets was released on the market at the beginning of XXI century. Later the company released the site's mobile version along with apps for the popular mobile platforms such as Android and iOS. Whether you are using the mobile version of Bet365 or the app you have access to a wide variety of markets, sports on which to bet, different promotions and the special "In-Play" bets section. In this section you can track how the odds change in real time and the Live Streaming section will allow you to follow the match you have bet on directly from your mobile device. Fortunately for all players, Bet365 constantly receives licenses for more and more European countries.
In this review we will share with you our first-person experience with the mobile services of bet365. For more first-person experience at the website, check our Bet365 review.
---
Verdict & Apps Rating
Excellent betting markets, impeccable reputation and a constant development of the user functionality – this is what the bookmaker Bet365 can offer whether we are talking about mobile or desktop version. You have at your disposal the Cash-out option for stopping your bet, live-stream as well as a number of promotions for mobile users.
Our rating: 9.5/10
The apps are optimized for a fast and slow internet connection. An intuitive interface will offer you a comfortable game regardless of your device's screen size. So don't hesitate any longer – download one of Bet365's apps and submerge yourself in the atmosphere of the online sports betting!
Related Articles